28-year-old woman with a history of Lyme disease describes side effects following her COVID-19 vaccine – a case discussion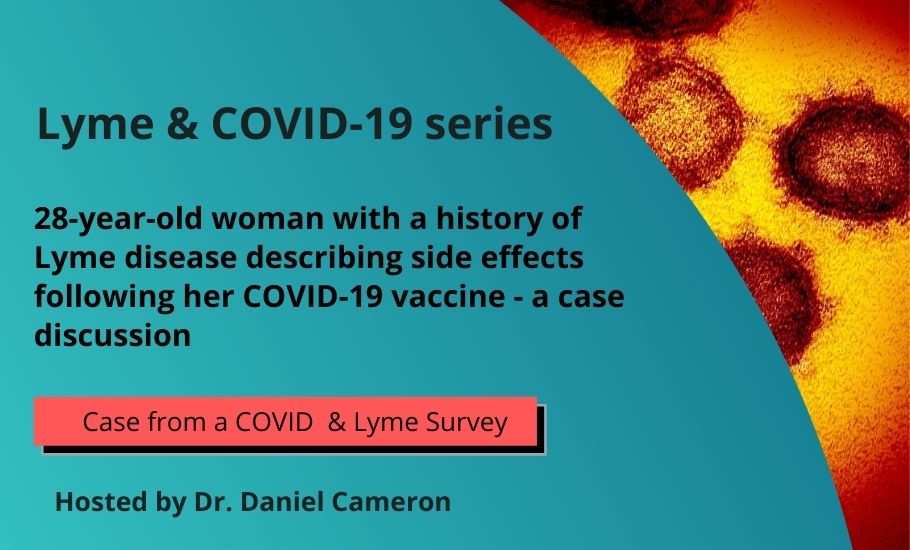 Dr. Cameron's latest Inside Lyme video podcast discusses the case of 28-year-old woman with a history of Lyme disease who shares the side effects she felt following her COVID-19 vaccine.

Case
A 28-year-old single white Latina woman with a history of a tick bite and erythema migrans rash who contracted Lyme disease while on vacation. She was not able to finish her college degree and was unemployed at the time of the survey. She had a positive IgG Western blot test for Lyme disease and was also treated clinically for Bartonella. She had been ill with Lyme disease since she was 16 years old. She was treated with Zithromax, Vancomycin, Levaquin, and IV ceftriaxone.
She had also been treated with vitamin C, fish oil, alpha lipoic acid, magnesium, glutathione, saunas and steam rooms, enemas, stem cells, and Zinc.
The woman remained ill despite treatment and reported having fatigue, insomnia, muscle pain, joint pain, migraines, seizures, general malaise, swollen glands, tachycardia, brain fog, concentration problems, mood swings, irritability, depression, as well as sensitivity to light, noise, and odors.
In May of 2021, she took the Pfizer vaccine. In response to the vaccination, she had a slight headache, some fatigue, and pain in her arm at the injection site. Her symptoms lasted less than 48 hours.
Her symptom burden is captured by the General Symptom Questionnaire-30 (GSQ-30), with a score of 43 out of 120, which was higher than for patients with a traumatic brain injury (TBI) but lower than patients with depression and Post-Treatment Lyme disease Syndrome (PTLDS) (see below for interpretation of the GSQ-30 score).1
The worst symptoms on her GSQ-30 questionnaire were feeling fatigued or having low energy, trouble falling or staying asleep, needing more sleep than usual, not feeling rested on wakening, feeling worse after normal physical activity, back ache, muscle aches and pains, bladder discomfort or change in urination, feeling irritable, sad, or decreased pressure, feeling panicky, anxious, or worried, trouble finding words or retrieving words, trouble with memory, and slower speed of thinking.
She did not feel her Lyme disease had worsened as a result of the vaccine. She strongly encouraged others to take the vaccine.
Lyme disease patient describes side effects following COVID-19 vaccine
HIGHLIGHTS
Question: Some individuals with a history of Lyme disease have expressed concerns that their Lyme disease symptom burden would increase if they were vaccinated for COVID-19. What is the clinical presentation of someone with a history of Lyme disease who has taken the COVID-19 vaccine?
Findings: This cross-sectional study reveals a high symptom burden in 1,168 individuals with a history of Lyme Disease. The GSQ-30 measure of symptom burden for 616 individuals with a history of Lyme disease who were vaccinated against COVID-19 was significantly lower than the symptom burden for the 552 who were not vaccinated.
Meaning: Contrary to common concerns, the COVID-19 vaccine did not worsen the symptom burden for individuals with a history of Lyme disease. Instead, the symptom burden was significantly lower relative to those who were not vaccinated. However, it remains possible that a small number of individuals would have negative reactions to the COVID-19 vaccine.
Links to Lyme and COVID-19 series
---