When Lyme disease causes a positive test for mononucleosis
False positive serologies for Lyme disease have been previously reported in patients with acute infectious mononucleosis. However, a recent paper describes two cases in which Lyme disease was misdiagnosed as mono based on false positive serologies for the Epstein-Barr virus (EBV).

by Daniel J. Cameron, MD MPH
In the article, published in the journal Clinical Infectious Diseases, Pavletic, from the National Institute of Mental Health, reports "two cases of false positive Epstein-Barr virus (EBV) serologies in early-disseminated Lyme disease."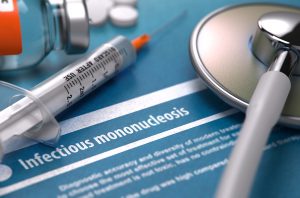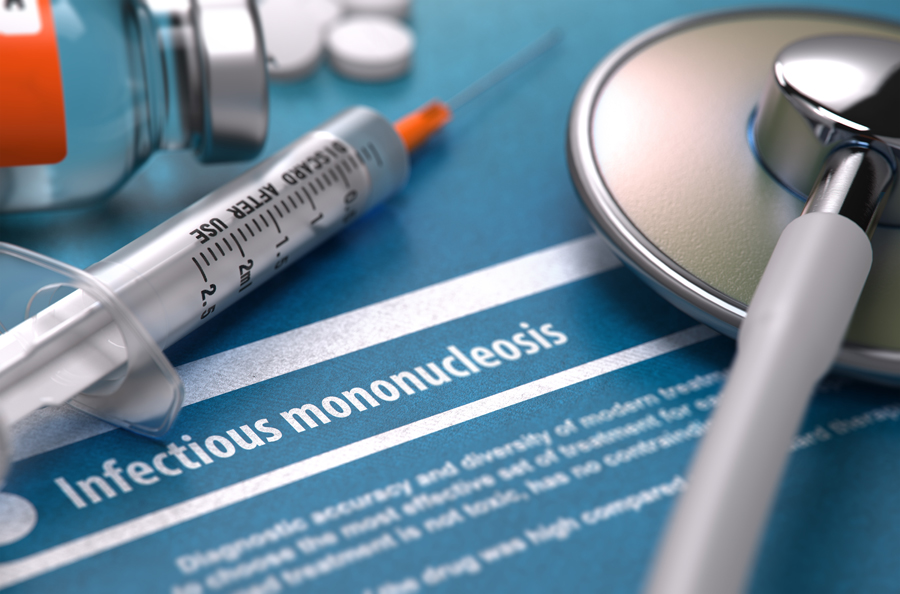 In the first case, a 16-year-old male from Virginia developed fatigue, myalgias and three brief episodes of fevers over an 18-day period. He was diagnosed with acute infectious mononucleosis based on a positive viral capsid antigen (VCA) IgM and negative VCA IgG.
It was not until 17 days later with the onset of multiple erythematous rashes and right-sided peripheral facial nerve palsy that doctors diagnosed the young man with Lyme disease. Laboratory evaluation revealed a positive C6 peptide ELISA index of 6.02 and a positive IgM immunoblot. He was prescribed a 4-week course of doxycycline and recovered.
"Repeat VCA IgG, VCA IgM and EBNA were negative, indicating that the initial VCA IgM was falsely positive," according to Pavletic.
In the second case, an avid biker from Maryland presented with a six-day history of fatigue, fever, myalgias and headache. Lyme disease was diagnosed the next day based on multiple erythematous rashes. Lyme serologies were positive by ELISA, IgG and IgM immunoblots.
Twelve days into her illness she tested positive for mononucleosis with a positive VCA IgM, VCA IgG, EBV early antigen, EBNA IgG, and positive monospot.
The fever resolved and the rashes faded with a 21-day prescription of doxycycline. The recovery was complicated by a right upper trunk brachial plexopathy. "The pain resolved and the weakness improved over the next six months," according to Pavletic.
"Three and a half years later, repeat VCA IgG and EBNA were positive, and VCA IgM was negative."
According to the authors, both cases were initially misdiagnosed. "Here we present two cases where early manifestations of Lyme disease were initially misdiagnosed as acute EBV infection due to positive VCA IgM results."
The authors touched on the difficulties interpreting acute mononucleosis testing. "While isolated VCA IgM may indicate early acute mononucleosis, the test can be nonspecific, especially when the likelihood of acute EBV infection is low." Pavletic adds, "Immune activation with other pathogens can also result in a false positive VCA IgM."
The second case was difficult to interpret given the positive monspot, heterophile and VCA IgM tests. "In this case, we cannot exclude that the positive VCA IgM could be due to subclinical EBV reactivation, which has little clinical relevance in immunocompetent individuals," states Pavletic, adding, "Heterophile antibody tests are known to have false positives due to acute infections, autoimmune diseases and cancer."
In practice, Lyme disease and mononucleosis are common conditions that share similar symptoms. The authors' two cases remind the reader of the need to consider Lyme disease even if initial serologies suggest mono.
References:
Pavletic AJ, Marques AR. Clin Infect Dis. 2017 Apr 4. doi: 10.1093/cid/cix298.
---
10 Replies to "When Lyme disease causes a positive test for mononucleosis"
Elysa

05/09/2017 (4:12 pm)

3 weeks after a tick bite, I went to the doctor with fever, aches, chills, joint pain and exhaustion. ELISA came back negative but the MonoSpot lit up like a christmas tree. For the next 5 years I was told I had Post Mononucleosis Syndrome, Fibromyalgia, MS, Cancer, Depression… I was able to find an LLMD through ILADS.org who ran a Western Blot among other tests. They came back postive for Lyme and Babesia. I'm now going on my 9th month of treatment but I'll be living with the damage for the rest of my life.

Julie

05/09/2017 (5:51 pm)

I always wondered if my EBV diagnosis when I was 16 could have been Lyme's, since, it was so severe I was sick for years and my fatigue, neurological problems continued up to and have continued thru & after I diagnosed w Lyme's and co-infections at age 35.

Destiney

07/19/2017 (11:55 pm)

That sounds exactly like me I was finally diagnosed yesterday with Lyme…as well as Babesia, Mono, Candida and numerous other things…i missed the last month of 7th grade due to mono???? And my physical and mental health continued to decrease…i wonder if it was Lyme the entire time…We were ALWAYS outside…sports camping playing…..i feel so overwhelmed

Dr. Daniel Cameron

07/20/2017 (5:46 am)

I am sorry to her you are overwhelmed. It can be hard to sort out when Lyme disease starts when other common illnesses are present.

Becca

06/16/2017 (1:13 am)

So interesting! My daughter is 9 and had tests run through IGenex. Showed ++ on 41 band of IgG and IgM but gave a negative overall result. Doctor tested her for EBV and it came back positive. She has severe joint pain, tummy aches, fatigue, weight loss, and random fevers on occasion. When I asked him what to do with the EBV result, he said "Lots of rest." He assured me she did not have Lyme and that she has had EBV for "quite some time." Her symptoms have been going on for 18 months. No known tick bite but she did have lice right before symptoms started.

Dr. Daniel Cameron

06/16/2017 (6:16 am)

It would be reasonable to revisit the cause of symptoms beyond 6 weeks even if the EBV were well documented. It is also possible someone can have EBV and a tick borne illness since they are common in children.

Lynne

06/20/2017 (4:41 pm)

Interesting indeed. I have an Igenex IgM result with 31+, 41++ and 45+ And have been told I am negative for Lyme disease. Of course that is CDC negative. I still have unbelievable fatigue and joint pain that is nearly unbearable 24 hours a day. The fact that I live in NY makes it that much more difficult. No one seems to want to treat this and all I want is to feel better.

Kathleen

07/03/2017 (1:34 pm)

Mono at age 18. Lyme and Mono at age 55 and early onset Alzheimer's symptoms at age 55. Lyme test was positive and I have been recovering my health since 2012. There are no more symptoms of early onset Alzheimer's and I am grateful that my family doctor, at the time, was able to prescribe the right antibiotics for the necessary time to get me healed. I have also changed my diet, exercise and lifestyle around to be healthier, because thanks to Lyme and Mono, I can no longer take a break from staying on top of my health, or it all might come back

Helen

07/06/2017 (8:29 pm)

38 years ago while working as a RN I became so totally exhausted to the point that I could barely get out of bed and had to sleep. I was a very healthy active woman at 26 years old. The lab called me and first told me I had mono then, that I was pregnant. I was very happy since we were planning to have a baby, our first of two daughters 13 months apart. I was also happy that there were two "reasons" why I was completely exhausted yet I still felt I was TOO exhausted. Not until 11 years later after I had a huge bulls eye rash summer of 1987 at age 37 did I begin to feel even more anxious and irritable and depressed. I remembered I began having anxiety out of the blue when I had "mono". Unfortunately back then I didn't know about Lyme disease etc. Same year our younger daughter at 9 years old began to get very ill. Nightmare time truly began. We took her to countless Dr's. Despite her constant painful pressure headaches, knees being so painful it made it almost impossible for her to walk and only wanting to sleep we were told there was nothing wrong physically with our bright happy daughter who loved school. Finally we found the life saving neurologist who diagnosed our daughter with Lyme disease. A few days before we had our first appointment with this angel Dr our daughter complained that her vision was getting "fuzzy". She was hospitalized immediately, IV antibiotics began and our local pediatrician agreed that our daughter have a lumbar puncture and that she'd work with our LLMD/neurologist who saved our daughter's life. Our daughter had pseudo-tumor cerebri and papilledema. She was treated aggressively for a year, IV then orals. Our daughter got better. Fast forward, I began to have more symptoms and 7 years after my bulls eye rash and deathly ill I was diagnosed with Lyme disease. Our other daughter got very sick at 17, Lyme again and another Picc line etc. My husband also got sick in his early 40's. Picc line #3 and long term treatment as well.
My family seemed to feel much better and were able to resume their lives. I was so grateful. But I didn't. After initially feeling much better with treatment I totally crashed when treatment ended. I got my first Picc line. Not until another several years was I diagnosed with WA-1 babesiosis, erlichiosis, mycoplasma HHV 6/8 by a well known LLMD. I've been extremely sick (intractable cranial nerve pain, had vegetations aortic valve, SPECT severe hypoperfusion both cortical hemispheres, severe monoparesis left side and have been treatment resistant but am doing better. Our grandson now 6 got sick when he was 2. Lyme disease again. I've heard about having a positive mono test but it's Lyme disease. Thinking back to my positive mono lab when also told I was pregnant 38 years ago and the anxiety depression and irritability that came out of the blue then makes me wonder if I had Lyme then before my bulls eye rash 11 years later.
---