Clinical presentation of individuals with a history of Lyme-disease-and-covid-19/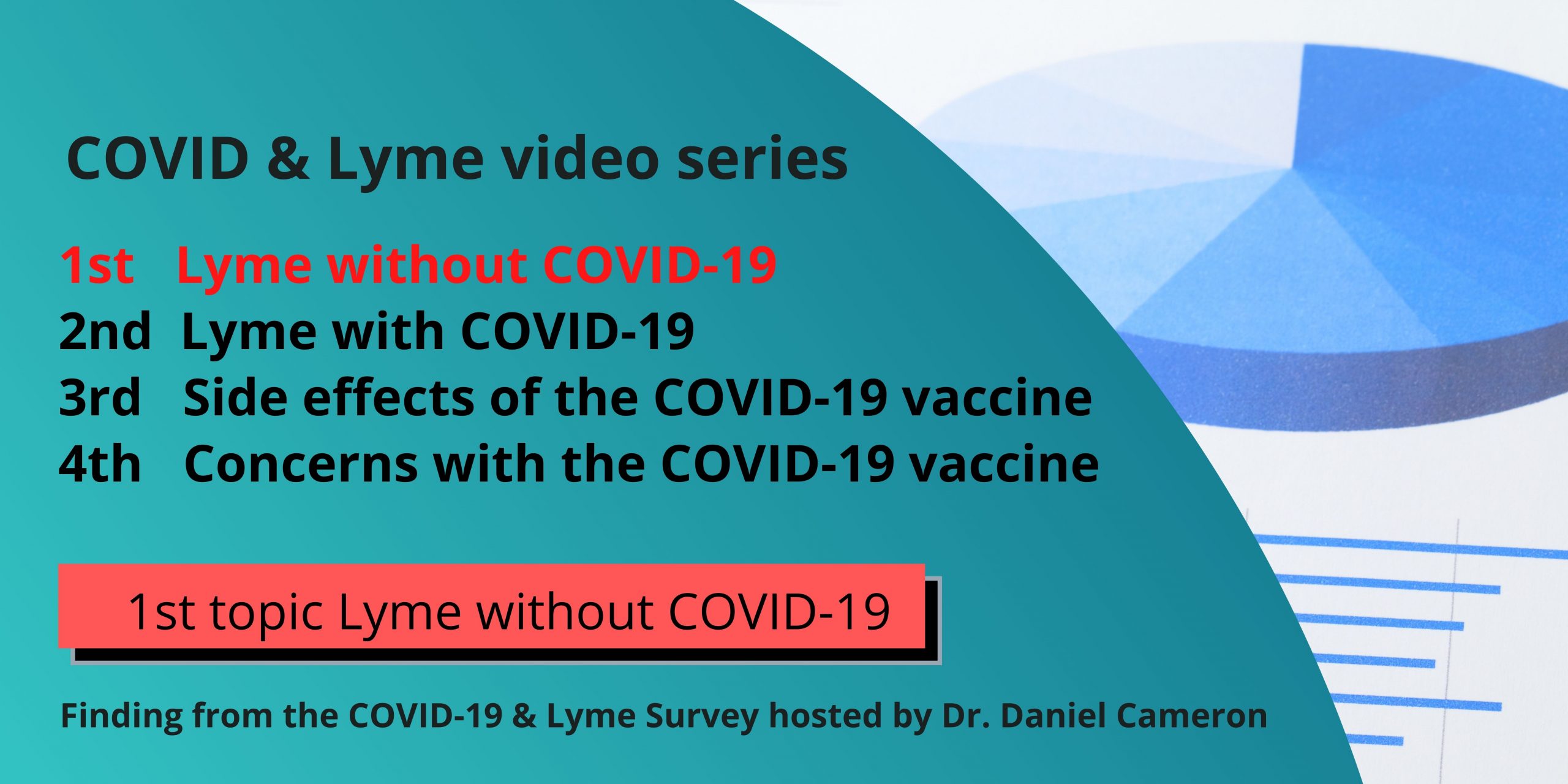 Dr. Cameron will discuss the case of a 45-year-old white woman who shared her concern with the COVID-19 vaccine. Her experience will highlight the findings from a COVID-19 and Lyme disease Survey of 1,168 individuals, age 12 and over, all with a history of Lyme disease. I am sorry this blog was released before I had the opportunity to finalize a video discussion of her concern with the COVID-19 vaccine and the concerns of others completing the Survey. Dr. Daniel Cameron
Cases of Lyme Disease and COVID-19
Case 1:
A 45-year-old white woman with a partial college education was working as a groundskeeper. She had a history of Hashimoto's Thyroiditis, irritable bowel syndrome, and viral meningitis. She had been ill for 37 years. There was not a history of a deer tick bite or erythema migrans. Her IgG western blot Lyme disease test was positive for 5 of 10 bands. She had been treated with doxycycline for 30 days. She also has been treated with herbal medication, vitamin B-1, cat's claw, saunas, steam rooms, an anti-Inflammatory diet, gluten-free diet, and Stevia. Nevertheless, she reported being chronically ill from her tick-borne illnesses.
She is not sure if she had COVID-19. She had a "weird cold and viral meningitis" confirmed by a lumbar puncture followed by a kidney infection.
Her GSQ-30 score of 30 was higher than individuals with a traumatic brain injury (TBI) but less than individuals with depression and Post Treatment Lyme disease Syndrome (PTLDS).1 The most significant symptoms on her GSQ-30 measure were feeling fatigued or having low energy, needing more sleep than usual, not feeling rested on wakening, feeling worse after normal physical activity, and trouble falling or staying asleep.
She reports being hesitant to take the vaccine but is likely to take it. She raised several concerns:
I have not had a clear understanding of my risks with both Lyme and an autoimmune disease in taking this or any vaccine.
But I do understand that contracting Covid-19 is likely much, much worse.
Getting clear data on any of it, in layman's terms, has been difficult to come by. My main concern has been losing time from work.
I'm hoping to get my body in a better state before tackling the potential consequence of another vaccine.
But I know COVID would be much worse. Just rolling the dice for now, I guess.
COVID-19 and Lyme disease
Over 1,000 individuals with a history of Lyme disease have shared their experience with or without contracting COVID-19 or taking the COVID-19 vaccine. I am finalizing a four part video series examining the results of a COVID-19 and Lyme Survey. The first four topics are as follow.
Part 1 – Lyme without COVID-19
Part 2 – Lyme with COVID-19
Part 5 – Side effects of the COVID-19 vaccine
Part 4 – Concerns with the COVID-19 vaccine
I am sorry to say I prematurely posted a draft of Part 4 before finalizing the video series.  I plan discuss this 45-year-old white woman  concerns with the COVID-19 vaccine in the fourth of of part video series.  Her experiences will highlight the findings from a COVID-19 and Lyme disease Survey of 1,168 individuals, age 12 and over, all with a history of Lyme disease.
Again thanks for you patience.
---