Lyme disease forces 24-year-old army officer out of military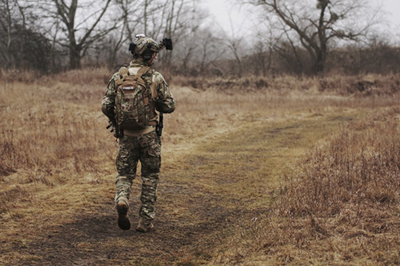 We often think of Lyme disease as a threat to the public engaging in enjoyable outdoor activities, like hiking, camping and gardening. But Lyme disease and other tick-borne illnesses are a constant threat to individuals serving in the military, who spend most of their time working in heavily forested or mountainous terrain.

In the case report "Latent Lyme Disease Resulting in Chronic Arthritis and Early Career Termination in a United States Army Officer," Weiss et al. describe a 24-year-old Second Lieutenant, trained at the U.S. Military Academy, whose career was terminated due to Lyme disease. [1]
The young man had unexplained knee swelling after successfully completing hip surgery. Doctors removed 75 cubic centimeters of fluid and treated the patient for a possible Gonorrhea infection. But tests were negative and the swelling persisted.
Lyme disease tests were performed, which came back positive. The man was diagnosed with Lyme disease based on the presence of antibodies and PCR testing against B. burgdorferi in the synovial fluid.
"The patient was treated with a combination of periodic knee joint aspirations to remove swelling and a 30-day course of doxycycline," writes Weiss. However, during treatment, the man developed swelling in his other knee.
Over the next several weeks, swelling in both knees continued, but Lyme disease tests were negative. The man was given anti-inflammatory medications and had periodic fluid removal but showed little improvement.
After a repeat test detected B. burgdorferi in the synovial fluid, the man was treated with one month of IV ceftriaxone.
However, he remained ill, developing severe fatigue, memory issues, headaches, sleep disturbances and complaints of angina. He had chronic knee and hip pain and minor effusions in both knees. A tear likely contributed to a Baker's cyst.
Military personnel are at risk of developing Lyme disease.
Click To Tweet
It was unclear whether the man's symptoms were due to a Lyme disease infection 15 years earlier or whether he was re-infected. Nevertheless, he was assumed to suffer from post-treatment Lyme disease syndrome (PTLDS). No additional antibiotics were prescribed.
"Eventually, a medical retention decision point was reached, and he was deemed unfit for duty," writes Weiss.
The economic burden to the military of losing a trained army officer was estimated to be high. "It is important to note that the average 4-year cost for educating a single U.S. Military Academy cadet is currently over $300,000," explains Weiss.
"Moreover, medically retiring an officer results in life-long disability payments and medical coverage."
This case "highlights the need for increased surveillance for Borrelia burgdorferi (B. burgdorferi) in military training areas and for the early and aggressive diagnosis and treatment of military personnel who present with the symptoms of acute Lyme disease," the authors conclude.
Editor's note: I have opposed the diagnosis of "PTLDS" until we have a reliable test to rule out a persistent infection.
References:
Weiss T, Zhu P, White H, et al. Latent Lyme Disease Resulting in Chronic Arthritis and Early Career Termination in a United States Army Officer. Mil Med. 2019.
---