Find a Lyme doctor using telemedicine.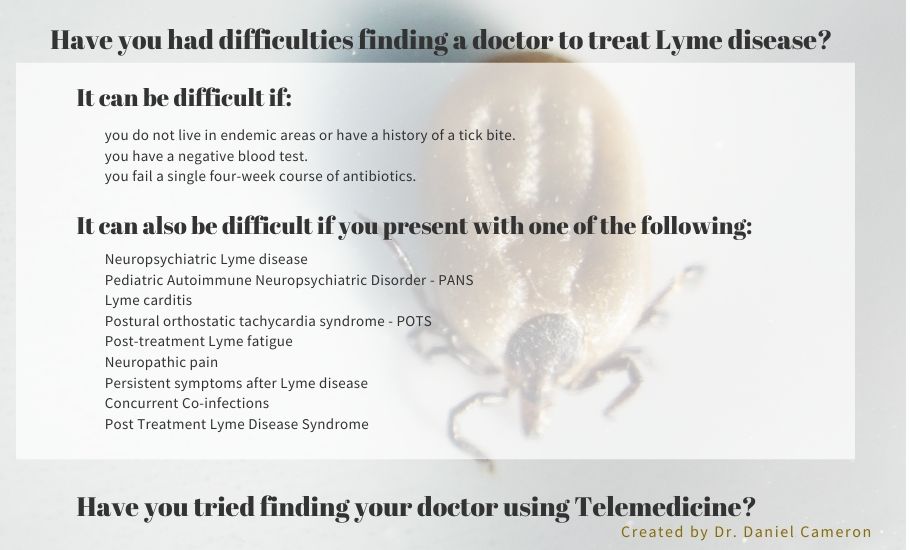 It's easy to find a doctor who will treat Lyme disease patients with a tick bite in an endemic area when they exhibit an erythema migrans rash, 7th nerve palsy, heart block, meningitis, or Lyme arthritis. But, if a person lacks these objective signs, finding a doctor to recognize and treat the disease is not so easy. Now with telemedicine, you may be able to consult with a Lyme doctor, who specializes in tick-borne diseases.

It can be difficult to find a Lyme doctor who treats patients who do not live in an endemic area or have a history of a tick bite.
It can also be difficult to find a doctor when a person presents with non-specific manifestations of Lyme disease, which may include:
Neuropsychiatric Lyme disease [1]
Pediatric neuropsychiatric disorders – PANS [2]
Lyme carditis [3]
Autonomic dysfunction – POTS [4]
Post-treatment Lyme fatigue – Post-Lyme disease [5]
Neuropathic pain [6]
Persistent symptoms after Lyme disease [7]
Concurrent co-infections [8]
"Post-Treatment Lyme Disease Syndrome" [9]
In addition, it can be difficult to find a doctor who will treat a Lyme disease patient with a negative blood test.
Finally, it can be difficult to find a doctor who will continue to treat the disease if you fail a single 4-week course of antibiotics.
Telemedicine has taken off with the COVID-19 pandemic to help prevent spreading the virus in medical offices. [10] But with its introduction, Lyme disease patients may also benefit.
Find a Lyme doctor using telemedicine.
Click To Tweet
Patients who suffer from Lyme disease symptoms have, until now, been forced to travel long distances to find specialists to treat the disease or have been left to live with ongoing, sometimes disabling, symptoms.
Telemedicine may offer the opportunity for patients, who possibly have Lyme disease, to meet virtually online with doctors who specialize in treating tick-borne diseases.
A Lyme doctor, sometimes referred to as a Lyme literate doctor, recognize that Lyme disease and other co-infections may occur even in patients who live in non-endemic regions; who don't recall a tick bite; who do not meet the strict CDC criteria for diagnosis; who have a negative Western blot test; and who remain ill despite treatment with a single course of antibiotics.
Telemedicine examples
Hatcher-Martin and colleagues described the use of telemedicine in individuals with a concussion, mild traumatic brain injury (TBI), dementia, epilepsy, movement disorder, multiple sclerosis, and inpatient general neurology in the journal Neurology. [11]
"Telemedicine can also enable earlier access to specialized care, removed the burdens of travel, and patient satisfaction," wrote Hatcher-Martin.
A Cochrane systematic review found telemedicine as effective as in-person visits in chronic conditions, such as diabetes and congestive heart failure. [10] In fact, the Veteran's Administration has successfully used telemedicine for chronic disease settings such as mental health, dermatology, hypertension, and heart failure. [12]
Infectious disease (ID) specialists successfully used telemedicine for patients with pneumonia, urinary tract infection, sepsis, bacteremia, endocarditis, skin and soft tissue infections, and upper respiratory infections.
"Based on the available, albeit limited, evidence, telemedicine ID consultation seems comparable to standard of care for the clinical outcomes of mortality, length of stay, readmission, adherence, cost, and antimicrobial use," wrote Burnham and colleagues in the journal Systematic Reviews. [13]
Author's Note: You may find that you're unable to receive treatment for Lyme disease if you haven't met a number of criteria, put forth by the CDC. But with the increasing use of telemedicine, individuals who once had few options may now have an opportunity to have consultations with a Lyme doctor.
References:
Fallon BA, Nields JA. Lyme disease: a neuropsychiatric illness. Am J Psychiatry. 1994;151(11):1571-1583.
Sigra S, Hesselmark E, Bejerot S. Treatment of PANDAS and PANS: a systematic review. Neurosci Biobehav Rev. 2018;86:51-65.
Muehlenbachs A, Bollweg BC, Schulz TJ, et al. Cardiac Tropism of Borrelia burgdorferi: An Autopsy Study of Sudden Cardiac Death Associated with Lyme Carditis. Am J Pathol. 2016.
Kanjwal K, Karabin B, Kanjwal Y, Grubb BP. Postural orthostatic tachycardia syndrome following Lyme disease. Cardiol J. 2011;18(1):63-66.
Krupp LB, Hyman LG, Grimson R, et al. Study and treatment of post Lyme disease (STOP-LD): a randomized double masked clinical trial. Neurology. 2003;60(12):1923-1930.
Simons LE. Fear of pain in children and adolescents with neuropathic pain and complex regional pain syndrome. Pain. 2016;157 Suppl 1:S90-97.
Klempner MS, Hu LT, Evans J, et al. Two controlled trials of antibiotic treatment in patients with persistent symptoms and a history of Lyme disease. N Engl J Med. 2001;345(2):85-92.
Krause PJ, Telford SR, 3rd, Spielman A, et al. Concurrent Lyme disease and babesiosis. Evidence for increased severity and duration of illness. Jama. 1996;275(21):1657-1660.
Rebman AW, Aucott JN. Post-treatment Lyme Disease as a Model for Persistent Symptoms in Lyme Disease. Front Med (Lausanne). 2020;7:57.
Portnoy J, Waller M, Elliott T. Telemedicine in the Era of COVID-19. J Allergy Clin Immunol Pract. 2020.
Hatcher-Martin JM, Adams JL, Anderson ER, et al. Telemedicine in neurology: Telemedicine Work Group of the American Academy of Neurology update. Neurology. 2020;94(1):30-38.
Serper M, Volk ML. Current and Future Applications of Telemedicine to Optimize the Delivery of Care in Chronic Liver Disease. Clin Gastroenterol Hepatol. 2018;16(2):157-161 e158.
Burnham JP, Fritz SA, Yaeger LH, Colditz GA. Telemedicine infectious diseases consultations and clinical outcomes: a systematic review and meta-analysis protocol. Syst Rev. 2019;8(1):135.
---
2 Replies to "Find a Lyme doctor using telemedicine."
Stacy

07/05/2021 (8:13 am)

Are there any recommendations for a telemedicine doctor for Lyme?

07/05/2021 (8:52 am)

The laws differ from state to state and continue to change. Doctors differ in their approach to telemedicine. I offer telemedicine once I have seen a patient but that varies from patient to patient and may also change over time.
---