Lyme endocarditis in 68-year-old avid outdoorsman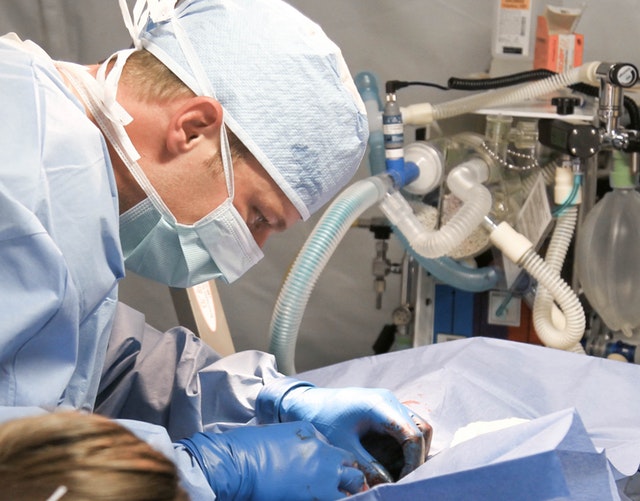 "Lyme endocarditis can be a challenging diagnosis to make, given the rarity of cases, inability to grow the organism in culture, and serologic testing that does not clearly distinguish between current and prior infection," according to Paim and colleagues from the Division of Infectious Diseases at Mayo Clinic. [1]
In their article published in The American Journal of Medicine, Paim and her team describe a 68-year-old male with progressive dyspnea and valve disease. His transesophageal echocardiogram revealed a mitral valve perforation with severe mitral valve insufficiency.
The mitral valve was repaired and aortic valve replaced. The patient was prescribed ceftriaxone and azithromycin along with diuretic therapy for presumed heart failure exacerbated by community-acquired pneumonia.
He was diagnosed with Borrelia burgdorferi, the causative agent of Lyme disease, using the molecular diagnostic test 16S rRNA PCR and sequencing. His blood and valve tissues were culture negative. Other infectious causes of endocarditis were ruled out.
The patient is an avid outdoorsman and reported having tick bites every year, including just a few weeks before he presented with severe mitral valve dysfunction.
Heart problem or Lyme disease?
Click To Tweet
Serologic tests were positive by IgM and IgG Western Blot, consistent with both active and prior infection. The patient was successfully treated with 6 weeks of intravenous ceftriaxone.
Other studies have described cardiac manifestations of Lyme disease. According to a review by Paim et al., out of 84 patients with Lyme carditis:
• 69% reported palpitations
• 19% had conduction abnormalities
• 10% had myocarditis
• 5% had left ventricular systolic dysfunction
Seven cases suggestive of degenerative valve pathology have also been described but not as well characterized as this case.
The diagnosis of Lyme endocarditis is not easy. "The clinical patient manifestations of Lyme endocarditis are nonspecific and can be similar to other infectious and noninfectious systemic diseases," writes Paim.
Fortunately, the doctors were able to diagnose the man with Lyme endocarditis and treat successfully. This case should encourage other doctors to include Lyme disease in their evaluation.
Related Articles:
Another cardiac manifestation of Lyme myocarditis
Lyme carditis causes complete heart block in 26-year-old man
When Lyme disease mimics a heart attack
References:
Paim AC, Baddour LM, Pritt BS, Schuetz AN, Wilson JW. Lyme Endocarditis. Am J Med. 2018.
---
3 Replies to "Lyme endocarditis in 68-year-old avid outdoorsman"
Janet

01/16/2019 (3:11 am)

My daughter has Lyme Disease and has been battling it for 4 yrs. We have to see a holistic doctor out of state as that is the only real help we have found. 8 medical doctors in our area have ridiculed and mistreated, misdiagnosed and humiliated her. Tonight she has chest pains again, and I am worried about her heart. I cannot take her to the local ER because the last time she was there , out of breath with chest pains they just gave her an anti- anxiety and said that many teenage girls go to Lyme doctors who are actually just depressed. If she dies from Lyme in her heart, who in this country would even acknowledge the truth?

Sent from my iPhone

Dr. Daniel Cameron

01/16/2019 (1:36 pm)

It has to be difficult on your daughter. I am assuming that she had been evaluated by a cardiologist. I often seen adolescents who remain ill despite numerous evaluations. Mood issues are common in Lyme disease as a symptom and not the cause.

Sally Mitchell

05/10/2018 (11:04 pm)

About 3 years ago, my husband was feeling very sick and at night he would have such heavy night sweats that he used to sleep on beach towels to absorb the perspiration. He saw an internist, was put in the hospital for 4 days, was released and declared healthy. While in the hospital many tests were done and he also saw a urologist, a hematologist, and an infections disease doctor. He was tested for Lyme and it was negative. Not one of his doctors seem to know what we eventually found out, and that is there are 9 tick borne diseases only 3 of which have blood tests. I was desperate. Someone finally recommended Dr. Cameron. We went there with the huge file I had accumulated, he listened, took blood to send to the lab, and put him immediately on antibiotics for 6 weeks. He explained about the 9 tick borne diseases and had seen cases like my husband many times. Even after two weeks on the medicine, my husband was starting to feel better. By the end of the 6 week period, he was 95% recovered. The only reason I even found Dr. Cameron was because I was telling everyone I knew, or met, and even total strangers and finally my Bond broker told me about a Dr. his mother had used. I considered ourselves extraordinarly lucky to have found this man. And I am appalled at how none of the other doctors had a clue.
---