Which Lyme disease guidelines should you follow for Lyme Carditis?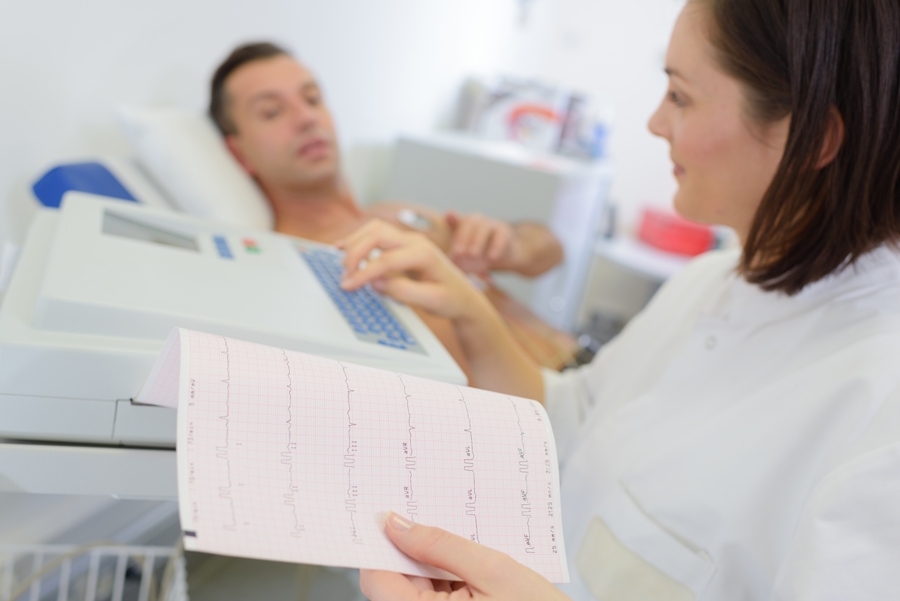 Lyme carditis occurs when Borrelia burgdorferi spirochete penetrate the pericardium (a membrane that encloses the heart) or myocardium (muscular tissue of the heart). The infection triggers an inflammatory response, typically causing atrioventricular (AV) conduction abnormalities, such as a first, second or third-degree heart block.

In their  article Lyme Carditis: A Rare Presentation of Sinus Bradycardia Without Any Conduction Defects, Grella and colleagues present "a unique case of Lyme carditis, without the classical findings of Lyme disease [such as a rash] or common EKG findings of AV conduction abnormalities."¹ The case highlights the differences in Lyme disease guidelines.
A 56–year-old man was admitted to the emergency department with lightheadedness and chest pain. An EKG revealed sinus bradycardias. Western blot test results for Lyme disease were positive and included IgG bands 18, 28, 39, 41, 45, 58, 66, 93 and negative for IgM (band 23 was positive). The patient was given a 7-day course of IV ceftriaxone.
However, "he continued to have persistent bradycardia with his heart rate dropping to 20 to 30 beats per minute throughout the night," writes Grella. "Additionally, he had several sinus pauses while sleeping, with the longest lasting for 6.1 seconds."
The man required further treatment with a pacemaker and a 3-week course of IV ceftriaxone.
At his one-month follow-up appointment, he was symptom-free.
The authors note that Lyme disease patients' presentations may differ. "A gray zone exists in regards to the treatment of Lyme disease because every patient does not present with the characteristic rash and symptoms of Lyme disease."
Furthermore, as Grella points out, there are different treatment guidelines for Lyme disease.
"The Infectious Diseases Society of America (IDSA) recommends that patients be started on a short course of antibiotics as the persistent infection is infrequent or non-existent."
"The International Lyme and Associated Diseases Society (ILADS) recommends the Grading of Recommendations, Assessment, Development, and Evaluation (GRADE) system. This system emphasizes that a prolonged course of antibiotics may be required, keeping in mind the high failure rates from a short course of antibiotics and the high prevalence of disseminated disease in a large number of cases."
Meanwhile, Lyme carditis treatment varies between patients, as well.
"Patients with Lyme carditis who do not have high-grade heart block are managed conservatively with oral antibiotics."
"Patients with a high-grade heart block should be hospitalized, closely monitored, and treated with IV ceftriaxone 2 grams or IV penicillins for second/third-degree AV block or prolonged for PR interval > 300 ms."
Other institutions offer different approaches. "The European Federation of Neurological Societies (EFNS) recommends ceftriaxone or cefotaxime for 2 weeks as the standard of care in acute Lyme carditis."
The authors conclude: "A high clinical suspicion of Lyme carditis is required when someone from a Lyme endemic region presents with unexplained cardiac symptoms and has EKG findings suggestive of carditis."
Editor's note: The length of treatment for this patient was consistent with the ILADS guidelines, as the man had failed the initial treatment.
Editor's disclosure: I am co-author of the ILADS treatment guidelines.
References:
Grella BA, Patel M, Tadepalli S, Bader CW, Kronhaus K. Lyme Carditis: A Rare Presentation of Sinus Bradycardia Without Any Conduction Defects. Cureus. 2019 Sep 2;11(9):e5554
---
5 Replies to "Which Lyme disease guidelines should you follow for Lyme Carditis?"
Mary Kay McKay

02/14/2020 (3:32 am)

You commented that multi system disease presentations like Lyme disease get a psychiatric Diagnosis many times. This is SO true with Lyme Disease. In 1986, Jeff Boyle presented with one of the first cases of Lyme disease in Illinois. He lived on the Fox River in Algonquin, IL. The Fox River comes to IL from Wisconsin. WI is endemic for Lyme and having ticks. They migrated on birds traveling to Illinois down the Fox River. He went to Mayo Clinic to get information about this unknown disease. They said then that it was a psychological problem and gave him an anti psychotic drug. He was referred to the local mental health center, where I met him. He even got psychotherapy where he talked about the symptoms of his disease. I'm an Occupational Therapist and his symptoms were new to me. But now I have Lyme disease, I remember his symptoms. I got bit in the same area. The birds have been carrying The ticks down from Wisconsin and NO ONE reported to the public that this was a problem and they need to take precautions. Back then people would say to him to look further for a diagnosis and treatment for his illness. He said "I've been to Mayo Clinic. Where else do I go?" I'm sure that Jeff has taken his life by now. My other friend Jim Cemenski lived on the Fox River in Algonquin also. He also had Lyme Disease for quite a number of years. He passed it on to his wife who was diagnosed with fibromyalgia. Another nightmare story of Lyme Disease.

emma

02/13/2020 (7:05 pm)

Theres a hearing next week here in Richmond VA for a doctor who dared to treat Chronic Lyme and now they're trying to suspend her license!!! My friend told me that she was asked if she had Lyme when trying to obtain new Health Insurance. It's so disheartening.

Dr. Daniel Cameron

02/13/2020 (10:44 pm)

Thanks for sharing your frustration.

Wendy

02/13/2020 (6:27 am)

How does one get their PCP to understand Lyme disease and the treatment? My PCP is not on board with it.

Dr. Daniel Cameron

02/13/2020 (8:14 am)

There are doctors who have given other doctors if they treat Lyme disease. That opposition is preventing some of our brightest doctors from treating more than early Lyme disease. Until times change, you will likely need to seek a second opinion. Call my office in New York at 914 666 4665 if any further questions.
---