Opinion: Low COVID-19 vaccine trust among Lyme disease patients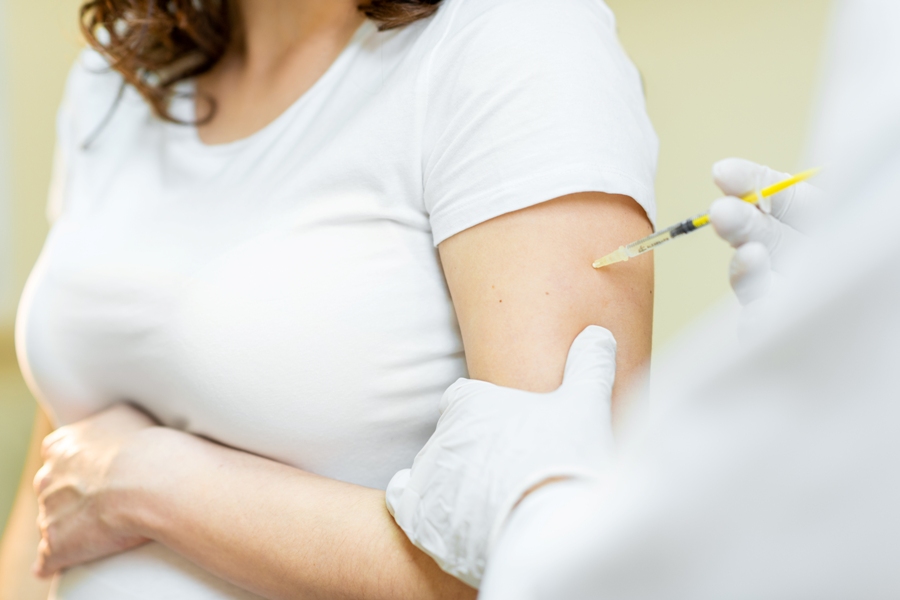 I have Lyme disease patients who do not trust the COVID-19 vaccine. Apparently, there is also a low trust for the COVID-19 vaccine among Black Americans, writes P.R. Lockhart in an NBC News article entitled, "Experts warn of low Covid vaccine trust among Black Americans."[1] The Black American concerns are similar to the concerns of Lyme disease patients.

Some individuals with Lyme disease do not trust the COVID-19 vaccine. They are not alone.
As the author points out, a December poll by the Pew Research Center reported that 71% of Black respondents knew someone who had been hospitalized or died from Covid-19, yet fewer than 50% of Black Americans polled would get the vaccine.
"Many of them fear that the vaccines aimed at stopping the spread of Covid-19 will be harmful to Black Americans."
My patients are concerned that the vaccine will be harmful to their immune system. Some Lyme disease patients developed autoimmune issues after receiving the Lyme disease vaccine. The vaccine by SmithKline Beecham was pulled off the market by in 2002. The manufacturer was unable to determine if the autoimmune issues reported by patients was, in fact, due to the vaccine.
But right now, the one thing that may be more important than getting vaccines in the hands of Black Americans is increasing their trust in the process that created it, and in a medical system that has mistreated them in both the past and the present.
Some of my Lyme disease patients have lost trust in the CDC in addressing their issues. The CDC took years to acknowledge that the number of cases of Lyme disease were at least 10 times higher than that the numbers reported in their surveillance program. When they adjusted their figures the actual number of cases skyrocketed from 30,000 to at least 300,000 per year in the U.S. alone.
The CDC also took years to acknowledge the existence and severity of chronic manifestations of Lyme disease. And then, the CDC only acknowledged the existence of Post-Treatment Lyme disease Syndrome (PTLDS). Studies have shown that PTLDS patients suffer from pain, fatigue, difficulty thinking, and poor function for at least 6 months after antibiotic treatment. Between 10-20% of Lyme disease patients develop PTLDS. Furthermore, the CDC has concluded that patients with ongoing symptoms do not have an active infection, even though there is no reliable test that can determine if a persistent infection has cleared.
"The reality is that their worries have been earned and will not be corrected until medicine and public health and the government reckon with the past and what has been done to Black and brown people."
Medicine and public health and the government have not reckoned with the past.
Others have said that they want to wait and see how the first wave of vaccine distribution is handled.
COVID-19 remains a concern for my Lyme disease patients. Some of my patients are taking a wait and see approach to the vaccination, given their concerns with medicine, public health and the government.
References:
Experts warn of low Covid vaccine trust among Black Americans by P.R. Lockhart in NBC News. https://www.nbcnews.com/news/nbcblk/experts-warn-low-covid-vaccine-trust-among-black-americans-n1250743 Last accessed 12/12/20.
---
218 Replies to "Opinion: Low COVID-19 vaccine trust among Lyme disease patients"
Mary J. Rohlfing

08/14/2022 (9:57 pm)

I have been reluctant to get the current covid vaccinations because of all the side effects, namely many Lyme patients having a recurrence of their lyme that was in remission. The Novavax is now available in my area. Have any Lyme patients taken this vaccine, and if so, have you had any adverse effects? So far, I have not had covid and feel very blessed. I would appreciate any information on your experience with Novavax that you would like to share. Thank you!

Dharma

08/20/2022 (12:20 am)

Hi Mary, I feel like I live under a rock sometimes… and there's SO much info out there nowadays.
Alas this is the first time I've heard about NOVAVAX. I looked into it and it reminded me of something I took at the beginning of COVID called homeopathic Nosodes. An extreme dilution to innoculate the body with a 1/1,000,000 dilution of covid. I wonder if they're similar. I have lyme (diagnosed 2020 and had it for unknown amount of years), and the nosodes worked great for me. I was exposed many times and only got it once. Not sure where to get the nosodes anymore.. ask your nearest naturopath?

JD Donovan

03/01/2022 (12:40 pm)

Pfizer vaccine brought my Lyme disease out of remission, it took 3 rounds of antibiotic treatment before getting it back into remission, 1st round Oral, second round IV for 21 days, then a third round of oral finally worked. My biggest symptom this time was insomnia. After 3 months of treatment I'm finally able to sleep more than 3 hours a night. My Lyme was in remission for approx 6 yes before the vax.

Kathleen Coleman

04/06/2022 (4:49 pm)

Has anyone from the covid vaccinations got nickel sized hives / plus red raised rash , facial swelling , swollen eyelids

Kathleen Coleman

04/06/2022 (4:51 pm)

I forgot to say my son has had both lymes disease and Tularemia, could the vaccine have caused a re-emergence of the tick borne diseases

tina

04/29/2022 (10:12 am)

Yes, my eyes have really been affected from the vaccines, and now I have contracted the omicron and one of my eyes is really swollen underneath-also my gums, I had a few long term swellings, and after the vaccine it spread to my whole lower jaw.

Michele

06/12/2022 (10:52 am)

My friend with Lyme and bartonella got huge hives starting on her feet and ankles and then progressed up her legs. She went to urgent care twice as it was affecting her breathing as it went up her body. This was after her second Pfizer shot. They put her on steroids. Even afterward, it took months for her feet rashes to subside.

She later got IV NAD treatments in advance of her booster shot which seemed to work for about 2 weeks, when she drank alcohol and it reignited the hives and inflammation

Joan

09/27/2022 (10:18 am)

I have become very ill after taking the Moderna vaccine last year. I had Lyme in 2008 that went undiagnosed for over 1 year. After taking Moderna, my liver enzymes were very high and I lost over twenty pounds in a few weeks. After months of many of the symptoms mentioned here, I was diagnosed with PSC a rare disease of the liver. Now I wake up every day feeling as if it will be my last.

Joan

09/27/2022 (10:25 am)

Facial swelling and eyes swelling and rash on face, hair loss, joints locking, abdominal pain, tingling, burning and numbness, all over, near hypoglycemia, CFS, high liver enzymes, and finally, primary schlerosing cholangitis base on biopsy etc., all after receiving Moderna after being in I believe a remission from Lyme since 2010.

Lori

05/22/2022 (5:55 pm)

How many shots did you have I got the second booster Feb 14 ever since insomnia no sleep and like a histamine headache problem is don't have a llmd right now she went awol and I am dying

Lori

07/19/2022 (5:18 pm)

Who do you see saw if yesterday think it's addissons afraid it's LD was treated for 8 years till 2016 but he's retired never had a positive test if had it got it over 30 years ago

Tara

08/05/2021 (6:55 pm)

My son was born with LD. Anyone have exp w vaccine and being born w LD?

He is being pressured now he's 18. Is like to provide something to read but I'm assuming there is not alot out there.

I believe he already has vaccine injury brain damage-from undiagnosed Lyme and getting vaccinated.

Thank you!

08/08/2021 (8:14 am)

I am sorry you have to make such important decisions with so little information. Could you encourage your son and anyone you know who has Lyme disease to fill out my survey on Lyme disease and COVID-19 on my website at https://danielcameronmd.com/lyme-disease-covid-survey/

NR

07/13/2021 (4:14 am)

Dr Cameron,

Or, if anyone here participated in the Novovax trials…

Any thoughts on whether Novovax might be tolerated better? Is the spike protein causing the adverse side effects, or is it the mechanism (mRNA, Adenovirus/DNA delivery).

Thanks!

Kimberly Delgado

09/03/2021 (1:18 am)

This is a great question with all the pressure to get vaccinated. Is this a safer
Option for us who had their immune system affected due to Lyme disease?

Carmen Seidelmeier

11/24/2021 (7:04 am)

I have been vaccinated with Pfitzer, after the second vaccination my Lyme got very bad and I am still on antibiotics and Cowden protocol as well as Immoglbine G Infusion. Now the government in my country made it mandatory to get the booster shot. Shall I got the booster shot while the Lyme treatment?

Carolyn Glassford Ames

07/05/2021 (3:44 pm)

I had three TBDs for 23 years before finally receiving a diagnosis and treatment in 2018 in New York State (I'm in Ontario). In 1995, I had two expanding bullseye rashes one on the right thigh with a pus filled hole in it and the other opposite on the left thigh. Despite showing all of the classic symptoms of Borrelia, Bartonella and babesia, I was repeatedly refused a diagnosis or treatment. My health never recovered and I was off work for 2.5 years, supposedly with Rheumatoid Arthritis. Through the years I had many strange symptoms that every MD I saw either said I was fine or alternatively to see a psychiatrist. I've now been in treatment (including antibiotics) for 3.5 years and showed remarkable improvement to about 60% of my pre Lyme self.

I now am under the care of one of the few LLMDs in Canada, and was advised to not take any of the vaccines. I did a lot of research and carefully considered her advice but in the end decided that since I'd never had a bad reaction to any vaccine before and because COVID19 represented the greater threat, I received the Moderna mRNA vaccine on 23 April 21.

Within 4 hours, I had a huge inflammatory reaction, including but not limited to, a fever of 38.5C, nausea, vomiting, sweating, dizziness, balance issues way beyond what I have experienced with TBDs, a significant drop in cognition, bloody diarrhea, severe pain throughout my body (which felt like one big angry nerve, with my brain on fire) but the biggest worry for me was my pounding heart, arrhythmia for the first time ever, and heart/chest pain so intense, I had difficulty breathing. It felt like someone was pressing down hard on my chest. It was impossible for me to bend over or even be vertical for more than a few minutes.

I stubbornly did not go to ER as I figured it would pass in a few days. But it didn't. Two and a half months later, my inflammatory symptoms have eased, my chest pain is ever present, but not as severe, loss of taste and increased sensitivity to smell are still with me, this despite being diagnosed and treated for arrhythmia and pericarditis. My LLMD also put me on Ivermectin, which certainly reduced the intensity. I have not vomited for over a week, still zero appetite, cranial nerve pain that starts at the back of my head, follows around the left side of my head into my left ear, eye, jaw and lower left teeth, comes and goes now, like my arthritic pain (which I had not experienced for several years) and my intermittent low grade fever. My balance has recently started to improve. To drop from 60% improvement to 30% starting four hours after the jab and still not be able to exert myself in any way, is a disheartening experience, to say the least. I'm still waiting to have more cardiac testing done to determine if there's more at play than pericarditis. I'm offended when people hear my story and call me an anti-vaxer . I grew up with two MDs and a chemist, so am most certainly not against vaccines. Having said all of this, the fact that the CDC has only looked at heart inflammation in young people, is totally missing the point. You can't just assume that all of us who have had similar reactions but are not under 30 are not worth looking at. There is definitely a pattern of inflammatory reactions, including of the heart amongst some of us with late disseminated TBDs. It's quite possible there is more at play here, such as genetics, damage already done as a result of untreated TBDs, perhaps including even those with chronic inflammatory responses. I'm a patient, not a virologist, microbiologist, or an ID MD, but I know what happened to me was a direct result of the mRNA vaccine. Hoping this might help inform the usually biased coverage whenever the word Lyme comes up. Thank you for your time.

Eric

07/12/2021 (4:41 pm)

So sorry to hear about your awful reaction to the vaccines. I've been a long term PTLDS sufferer and have been on medication including a years worth of Rocephin IV. My wife and I decided to wait until Novavax came out before taking any of the vaccines. We have wanted to "cave in" just so we could see family and friends again but have held firm to waiting for Novavax which seems very promising to Lyme Disease patients.

After 2 months of writing letters to the CDC and the FDA I did finally get a call from the FDA about the vaccines and how it relates to Lyme disease patients. I will not give the name of the woman at the FDA who called me but she spent over 45 minutes with my wife and myself going over our symptoms and she stated that we were absolutely correct in "waiting until Novavax is approved" to get vaccinated … that the mRNA vaccine may very well exacerbate all of our worst conditions and that anyone with severe Brain Fog and neurological symptoms (including MS/CFS/Parkinsons/Alzheimers) could see their condition suddenly and very rapildly "Fast forward" into an untreatable condition. The woman at the FDA was also quite surprised that doctors have pushed the vaccine on patients with auto-immune and neurologic disorders when she said it is plainly stated that these people should not be vaccinated. This is right from the FDA folks… so I'm not saying don't get inoculated. I don't want to see anyone fall prey to this terrible virus. However… we are going to remain double-masked (with N-95) at all times when we leave the house until Novavax gets an EUA.

The Novavax which also serves as a Malaria vaccine is very promising to Lyme patients as we are probably all on anti-malarials … we are on several. So its possible the Novavax could have a very positive effect.
We've sent a lot of messages to Novavax pleading for them to apply for an EUA but they just keep pushing it off and we don't understand why. The people who need it most are so very vulnerable right now.
Novavax has not replied to us at all. The woman at the FDA did say she did not think that they would turn down an EUA if Novavax applied for one. So this is actually all on Novavax right now. They seem to be playing a money game with the only safe vaccine for the rest of us here playing russian roulette everytime we leave the house.

Sarah

08/11/2021 (10:44 am)

Have you been able to find any literature or research to support/demonstrate this? I would really like to present this to my doctor and have a discussion. I had a terrible response to the vaccine personally and have been doing extensive searches but haven't been able to come up with much. Thank you!

08/11/2021 (10:58 am)

I have not seen any more than anecdotal stories and through my patients. I launched a survey to contribute to the literature to help you and your doctor work through the risks and benefits. I would most appreciate it if you could complete the survey at https://danielcameronmd.com/lyme-disease-covid-survey/ to share your experience and concerns. It would also be helpful if you would encourage anyone you know to complete the survey.

Elisabeth Beaulieu

06/22/2022 (7:54 am)

I have been Very ill since October 2019 after an insect bite in Florida. I didn't know what was happening at the time so 4 months lapses and I ended up not working for 3 months from March to may 2020 with flu like symptoms, feeling ill overall, pain and aches. I had the Ana test and antibody and they came back doubtful but not conclusive. I ended up going back to work for a year with some small relapses here and there but nothing major. In July 2021 I started feeling really Ill (I had the first Pfizer vaccine in late April 2021 against my will and we were being forced to in order to keep our jobs) I had colitis for 10 years and was on immunosuppressants so they said it was a drug induced lupus (redid the Ana and antibody and it was positive) I had to ask to be seen by all sorts of specialists and they would practically all tell me there is nothing wrong. I asked for Lyme disease test which came back negative but I know I started feeling ill one month after a bite from something which gave me a big round spot on leg (not bulls eye) but after the vaccine everything came back and with dizziness, vibrations across my entire body, my left side of the head and ear always vibrating and feeling pressure. Symptoms were more persistent and worsened. I developed tinitus as I also took planquenil as they thought it was drug induced lupus and made me stop the immunosuppressants for colitis. I had to cancel trips, camping, shows basically my life was falling apart and being a single mom was so hard having my son seeing me that way for so long. I was off for 6 months. They still never figured out what was wrong. I went to emergency in December 2020 as the dizziness and head vibrations were so bad I thought I was going to pass out. They said I had sinus infection. I had received the 2nd dose of pfeizer in October and coincidentally 2 months later just like the first time, I felt even worse. I had worse tinnitus and all the brain / nervous system symptoms worsened. I started having anxiety attacks which were not something I had before. All this combined was and continues to be a painful struggle and discouraging. I went back to work slowly managing head spells when I needed to which was daily. I was seen by an llmd as well and tried many different things to remove the symptoms as there was also a thought that mould may have contributed on top of the insect bite and vaccines. I saw an nose ears throat specialist who doesn't see any thing . I did one mri last year and 2 head scans in the past 2 weeks . First one at emergency as I couldn't deal with the head vibrations and pressure. They didn't see anything. They put me on anti anxiety pills which felt as though activated aches and pains in joints, tendons, muscles and overall pain I could barely walk. So I stopped them. No one wanted to refer me to a rheumatologist in all these years. My family doctor who just retuned from
Mat leave read my file and a few weeks ago called me as she could see I was in agony and unable to manage things or how I felt inside. She agreed to put me on antibiotics for Lyme or other tick/insect Bourne infections but we are almost 3 years from the original bite. I've been taking them for 8 days now. I don't know that I'm seeing a difference other than the pressure in my head moving around but it's still there more on my left side. I feel like I'm losing my mind, I can't stand my body and my insides as well as my cognitive senses are all over making me feel as though I don't recognize myself. I no longer know what to do anymore as I feel very sick and unsupported as no one seems to know what's wrong. It's been worsening in last few days where joint and muscle pain has returned so was probably not related to the anxiety pills. I am having 3-4 big attacks weekly where I've been taking Ativan. I am despaired as I feel I'm losing my mind and that everything inside me is shutting down. I had some good days but they are very few and far between and these last few have been the worst as my brain and insides are bothering me so much I don't know what to do. I've gone to emergency twice in past two weeks where symptoms weren't this bad and they didn't do much other than ct scan and prescribe anxiety pills. I'm not well and don't know where to turn anymore

Judi

09/12/2021 (8:52 pm)

Wow… have Lyme and suffered with it fior close the 40 years! You just gave me the info I need to make my decision….. which was my gut feeling all along ! I hope your side effects improve. Lyme is bad enough! Nobody needs to add more pain to an already exasperated condition.

James

09/24/2021 (11:58 pm)

I wouldn't make a decision based on an anonymous, anecdotal comment on a blog.

09/25/2021 (9:02 am)

I am hoping my Lyme disease and COVID-19 survey will help with this important decision making process rather than having to rely on anecdotal comments. For now, that is all we have. The enrollment has been great. I still need volunteers to complete the form even if someone with Lyme disease is not sick now or ever had COVID-19 or taken the vaccine. Here is the link. https://danielcameronmd.com/lyme-disease-covid-survey/

Stephanie Allen

06/29/2021 (6:32 pm)

Does anyone have experience with the J and J vaccine? I am scheduled to get it next week and an extremely fearful of it reactivating Lyme and Bartonella symptoms that I have struggled to get under control for over 20 years. Any advice for or against getting it would be greatly appreciated. As much as I love you Dr Cameron, you saved my life once, I do not want to have to become a patient again and you have to save it again!!! 😃

Amy Schroeder

09/09/2021 (7:59 pm)

Sadly I got the j&j and within 2 days I was sick and I hadn't ever had. Bullseye when I had LD when I ws pregnant 12 years earlier and now I was laying in a hospital bed thinking I am having a stroke begging for to be tested for lymes and sure enough it was positive where it wasn't before. Here we are 5 months later and rounds of treatment later and magically its still positive and I am miserable with 2-3 migraines per week. Bodys always sore and I am always exhausted. I wouldn't Go this route. ID drs at Mayo were a waste in my opinion and literally am in tears as I type this looking for help to feel better.

Anita

06/20/2021 (8:50 am)

I have Lyme 20 years before knowing, I had seizures and a lot of the normal stuff, I got Covid I went to bed and couldn't breathe I have a fit bit, blood oxygen dropped to 80 that night. Months later I had what felt like a heartache. Walk across the room pulse would go up to 134.
So with that experience I got the vaccine. (I'm able to work before vaccinations, I was doing best in years) then shot 1 flared up lyme never felt good go the second one had a mini seizure felt bad for like 4 weeks. Now I feel better then before the shot.
A large kill off usual is called herx. Your body is overly toxins from dead lyme.
My experience

Steven Hanson

06/07/2021 (9:05 pm)

I was diagnosed with Lyme after 5 years of doctoring. That was in 2018. It took two years to get it under control, suppressed but not cured. I don't have access to a Lyme literate dr where I live and my Lyme doctor wouldn't see me due to coronavirus travel restrictions… I did a quick search "is moderna safe if you have Lyme" short answer, yep. I get the shot within two days my Lyme has flared up and is shutting me down again… So after a couple weeks I search "Moderna Lyme complications" and that's where I should have started. This sucks, I thought I had it under control. Our Canadian government says it is safe, I told the nurse I have Lyme and they gave me the shot with no hesitation. I understand the need to get vaccinated but I'd rather get covid again instead of Lyme. I won't be getting the second shot.

E-LIZ PS

06/25/2021 (3:54 pm)

Awesome Steven .. I'm right there with you friend. 14 yrs neuro late stage Lyme and only self treatment with bees cannibis and natural remedies.. I've made it this far but try my hardest to stay on top of it though seems I'm living through a Holocaust. I try to live without a lot of mention. And even now for myself on a wild rampage to decide but I'm sticking to my guns … Thank you for your wisdom and truth 🦋☠️🔥🐕‍🦺🥺 GODSPEEDS you on this hell of a journey

Daniel

10/25/2021 (12:22 pm)

My husband has Lyme for 20 years. He's 46. Had the Pfizer vaccine 2 months ago. Within 5 days he collapsed on a golf course and tKen to hospital . He's been a healthy fit guy running for miles daily.
Now hes been told he's got Myocarditis, he can't run or exercise and has pain in his chest daily. The doctors won't do any more and won't go near him to advice anymore.
It's devastating to see him going from a healthy guy running and doing sport to being in pain and no one can help. He hasn't had his second vaccination.
We are upset about it all.

Jerry

06/05/2021 (5:17 pm)

I had Lyme for many years before getting diagnosed. A moldy house made my symptoms much worse. I had the house remediated. was also treated for a slight growth on my pituitary gland and returned close to normal health for 18 months. After my 2nd Moderna shot I started getting muscle and back pain. The back pain went away but the muscle pain and stiffness spread to my legs and arms. I feel as though the lyme has been reactivated. I am back on antibiotics and am using ozone. I'm hoping that this will subside soon so that I can go back to an active life. it is miserable.

Amy

05/22/2021 (12:33 am)

I had Lyme as a 12 year old and it resurfaced 30 years later though after 4 years of testing, I didn't have a positive test . My provider diagnosed me with Lyme despite a positive test . I received the Johnson and Johnson vaccine two months ago . Last weekend, I went in to have routine bloodwork done . On a whim , I asked to have a Lyme test . Well, it came back positive . Now, I'm wondering if the vaccine triggered it ? I suppose I'll never know but if I could do it all over, I wouldn't have gotten the vaccine .

Sheila

06/28/2021 (4:35 pm)

Unfortunately, your not the only one. Had Lyme 2x, back in Early 90's, and early 2000's, tested positive both times, took Doxycycline both times, good to go! 4 weeks after J&J, get out of bed, searing fingers of fire from my feet to butt, pain and inflammation all over my body, old injuries on legs and arms flaring up, left knee so swollen, can barely walk, high elevation (1.71) of antibodies, but test borderline negative. I live in the "Lyme " area, what it's named after, many Lyme denying docs here, in Lyme disease land!!! crazy!!!Got the doxycycline after begging for it, got bad herx reaction after 4 pills. Going to get my gut and diet, pro-biotics, etc. in better shape and will try again with the rest. I will Never take another vaccine again!!!

05/18/2021 (9:58 am)

I was treated for Lyme and Babesiosis from 1998 to 2001 with antibiotics. My first symptoms were severe neck pain, headache and vertigo which abated with treatment right away. During treatment I had numbness and tingling in the left side of my face, mild tinnitus, a feeling of stiffness and lack of fluid movement, and mild difficulty with depth perception. I had a one time episode of a shower of floaters in my eyes and brief paralysis on my left side. For about 15 years I haven't experienced any symptoms. I have been diagnosed with BPPV and have had bouts of vertigo after ceasing antibiotic treatment for Lyme. On January 14 I had the Moderna vaccine. January 15 I had mild tinnitus. The next day I had numbness and tingling in the left side of my face, pressure in the left side of my head, tingling in my lower legs, and mild twitching in my lip. The tingling in my legs went away after about a week. The other side effects were present for several months. I also had severe vertigo at the end of the 3 month period, worse than any vertigo I experienced before, which lasted 9 days. I went for vestibular therapy and was treated for crystals in the horizontal canal and the vertigo abated although I still get brief episodes of lightheadedness. I did not get the second shot of the vaccine on recommendation from my doctor. I am planning to have an antibody test next month., but I would like to have the second shot for travel. Still, I would be worried about getting the Lyme symptoms again.

Leslie

09/19/2021 (4:40 pm)

I got the Pfizer vaccine (2nd dose in May). Then almost 4 months after my second vaccine dose I had a severe bout of vertigo (BPPV). It was gone the next day, but high ear pressure, imbalance and a toxic feeling remain. My first Lyme symptoms in 2003 included inner ear infection and BPPV. I had a patulous eustachian tube in my right ear due to Lyme and that resolved after 18 years. Now I fear my left side has a patulous eustachian tube from this latest infection.
Still, I figure that Lyme didn't kill me and covid could. Also want to protect my family and friends. So, I don't regret getting the vaccine.

Eric

05/17/2021 (7:35 pm)

Not sure if anyone has heard about this but the Novavax vaccine is not only used to prevent Covid but it looks like it is effective against Malaria as well. I know many of us are on Malaria based drugs (plaquenil / malarone aka atovaquone) and the LLMD that i'm associated with is hopeful that the Novavax vaccine could be helpful to the Lyme community when it finally presents itself. I've heard quite a lot of issues with the J&J as well as the mRNA and have resorted to double masking only and continuing to be hermits until further notice. Just wish Novavax wouldn't keep delaying its EUA which was supposed to be in May and now looks like July at the earliest. At least 10 years with misdiagnosed Lyme until igenix test proved positive, in a wheel chair for excessive lower body and lower back and hip inflammation for months at a time including severely swelled knees and ankles, Lyme heart carditis, chronic pancreatitis, significant glaucoma like issues, vicious gout and plantar fasciitis like symptoms flare ups, severe brain fog and bed ridden fatigue, high mycoplamsa pneumoniae and pertussis results. Tried every drug therapy, every tea, every herb, 1 year of Rocephin IV Nothing works. Nothing helps.

Kris

05/18/2021 (8:41 am)

I am waiting for Novavax as well as it seems to have a lot less side effects and all of these comments of re-triggered Lyme after the mRNA ones has me too scared. I am hoping they don't keep delaying as it looks like a promising alternative to the other vaccines currently offered.

Candy

05/25/2021 (3:20 pm)

I am also waiting for the Novavax vaccine. My Lyme doctor says I might be able to handle that one . I've had chronic Lyme for over 10 yr because of delayed diagnosis and treatment.

08/20/2021 (9:12 am)

My experience was almost identical to that of Carolyn Glassford Ames. I live in the midwest, and was diagnosed with Lyme disease 2015, treated with 5 days doxycillin, but was not seen by a gp until the rash was a week old. I was very very sick for 6 weeks, then slowly improved. I continue to test positive for Lyme, and have the arthritic condition and general unwellness that goes with it.I received the Moderna injection April 6. My arm became huge and fluid filled the next day and very painful, and I experienced flu like symptoms. These progressed, rather than diminished. The chest pain and rapid heartbeat I had was like nothing I ever experienced before. I was afraid to go to the ER, as I was afraid I would get covid there. The chest pain diminished overnight. The headache I had also began at the back at the base of the skull, then wrapped around to my eye and teeth, but on the right side. I experienced cough, headache, fever, shortness of breath, cognitive problems, fatigue, general body pain, terrible diarrhea, nausea, altered taste/smell, most of which have only recently resolved. There is still mild chest wall pain present. My gp sent me for a covid test mid may, which was negative. I was able to get an appointment the first week of June at which time I was diagnosed with possible cracked ribs due to extensive, violent cough. I had a negative chest xray and was prescribed 7 day course of erythromycin. I am only just now beginning to feel somewhat well.

08/20/2021 (9:47 am)

Thanks for sharing.

09/20/2021 (11:38 am)

I have Lyme disease and I would like to know about vaccine exemptions. I read about ten of the comments all the way through and skimmed through about ten more. Each comment expressed negative side affects and worsening Lyme disease symptoms post CoVID-19 vaccination. Does anyone have any info about the process of getting legal documentation for vaccine exception in the basis of being immune system compromised from having a pre existing neurotically condition?

09/22/2021 (7:38 pm)

I just know my personal experience. My doctor wrote a letter stating that I have a high likelihood of complications from the vaccine, due to auto-immune and inflammatory disease. I also have a history of reacting to the flu vaccine, which he included. I haven't received an answer from my employer yet, but they are mandating the vaccine by 11/15/21.
I want to thank everyone for sharing their experiences. I've just agonized over this decision. It's caused me so much anxiety. But I've fought my Lyme so hard to get to a point where I am functional again and it's terrifying to think of starting over. You all have helped strengthen my resolve not to give into social pressure when I know myself and my body (given that I react unusually to almost everything, even mild natural treatments). Thank you!

Serena W

05/23/2021 (1:39 pm)

Thank you for chiming in about Novavax. I would like to hear more about it and do research on the trials that have been done and see what ingredients are in it.

Linda Skillett

09/25/2021 (1:15 am)

I'm so sorry. God bless you and praers.

Allie

05/06/2021 (10:24 pm)

While I do not have Lyme disease, I have for the last 23 years dealt with Chronic Fatigue and Fibromyalgia. In March I receive my 1st Moderna vaccine. Major flareup. I slept 22 hours a day for 3 weeks after that. Fatigue, brain fog, migraines, weakness and joint pain. I'm going on week 5 since my vaccine and the brain fog has lifted and I'm sleeping half the day now.

Discussions with my specialist concluded not to get the 2nd vaccine.

Thank you for posting your experiences. It's hard to find other stories on the internet about bad reactions.

Amy

05/13/2021 (3:30 pm)

Curious if you are continuing to improve. I'm having the same reaction and need some hope.

Marcie

05/17/2021 (8:14 pm)

Hi Amy
I am in the same situation. I received the Pfizer and after the second dose my symptoms are really bad. I was feeling really good before the vaccine. Not sure how long this will last but keep posting if you have any improvements. I'm not even sure what to expect since this is so new.

Kathleen Coleman

06/25/2021 (2:47 am)

The same happened to my son after the 2 bd Pfizer shot he developed the same symptoms he had when he had Rabbit Fever from a tick bite Tularemia , he had confirmed case of Tularemia 4 years ago , seems like the covid vaccinations reactivated the symptoms , need blood testing to see if the Tularemia is back ?

Diane K

05/06/2021 (5:41 pm)

I was diagnosed with Lyme disease by an infectious disease specialist in 2012. I was given a cycle of doxycycline by my primary post diagnosis. By that point, I was barely able to walk. I had to use a walker and had major issues with my legs feeling like they were not there and other neuro issues. With time, I did get better and have functioned fairly well with Lyme. I received the 1st Moderna vaccine in early Feb and the 2nd March 13, 2021. The first went fine; a mild hack/cough and slight fever for a day. However, with the 2nd one it was quite a bit more serious. That evening I broke out on welts on my face; some the size of a half dollar. The injection was around 7PM and by the next morning I was unable to even stand on my own. I had to be helped out of bed. Both of my knees (mid shin to mid thigh) felt like there was a vice around them. I could not bend my knees and when attempting to stand they felt as if they might explode. For the first time in many years, we had to drag out the old walker so I could get around. Getting up/down from a chair or toilet was painful and near impossible. I found that if the chair was elevated high enough that my feet didn't touch the ground that was somewhat easier. I gradually was able to step down to the use of a cane and now, almost 2 months later, I am walking on my own unassisted but still have lingering pain in my L knee. I've had a couple of Lyme tests run as this feels exactly like the disabling effects on my legs around the two years prior to my initial diagnosis and for some time after. 4 weeks post vaccine and the strangest thing has happened. The "bullseye" has reappeared in the initial spot. It had disappeared about 8 years ago. Since the 2nd vaccine, I've also experienced multiple rashes on my arms and back (same as 2012 and prior). My primary referred me to a rheumatologist and we've done labs, so far. MRI is scheduled for mid-month. I have absolutely no doubt that the 2nd Moderna vaccine has kicked up my Lyme with a fierceness. I called Moderna and reported this as a serious adverse event. I have not heard a word back from anyone.

Dee

09/11/2021 (11:30 am)

Have you reported your reaction to VAERS?

Maureen Davidson

05/06/2021 (8:40 am)

I am 69 years of age and was diagnosed with Lyme disease 9 years ago after having the chills and a bulls eye and big red circular patches appeared over my entire body. I was diagnosed with Lyme and given a 3 week treatment. I believe I was extremely fortunate in that I was diagnosed very early as I did not experience any other symptoms associated with Lyme. I never gave a second thought to receiving the COVID vaccine, which I took and shortly after my second dose I started to experience intermittent burning sensation in my legs and joint pain in my knees. It has been over three months and I assume this has to be associated with Lyme. In reading all the blogs I see most many people are using herbal treatment but I am absolutely clueless as to what herbs are successful in Lyme treatment. The internet is flooded with varying opinions for different therapies, I would appreciate any advice to help me navigate treatment.

05/06/2021 (8:55 am)

Long hauler COVID-19 and Lyme disease are similar likely due to an ongoing overactive immune system. I typically recommend to my patients to look again at whether an antibiotic might be useful.

Cindy Brinkler

07/01/2021 (9:44 pm)

I used Kroeger Herb Product. .. SPK Formula with good results. I am 65 and had no more reoccurences for 15 years after having three bouts and months of antibiotic treatment in the first 7 yrs.

Cheryl G.

07/08/2021 (4:56 pm)

Maureen: Read the book Unlocking Lyme: Myths, Truths, and Practical Solutions by Dr. William Rawls – who also suffered from Lyme disease. There are several herbs mentioned there which are especially beneficial to gut health and reducing inflammation: Cat's Claw is among the one recommended. Dr. Rawls also has ongoing webinars. It's helped me to learn more – and I'm starting a herbal protocol now.

Lisa Wood

04/30/2021 (1:03 pm)

Hello!
I'm 35 years old strong, sporty woman but fightening with chronical Lyme Disease for 18 years. My LD was not treated never before but I felt so much different symptoms (strong headache with vomit, vision problems, anaemia, IBS, reflux, tooth, hair and skin problems and etc…). I found a doctor here in my Country, who is according to my symptoms and WB test say I have Lyme disease. We started my treatment more than 2 years ago. My treatment as well as all of the LD patient is very personal and special. But I'm going to acupuncture, infrasauna, massage, physioterapist and I'm getting some medicine of course.
But honestly my question is not related the Lyme disease but Covid-19 vaccine.
Last end of October I had Covid with minor problems. I'm saying minimal problems because I was not hospitalized. So I'm lucky I guess. I had fever for 1,5 days, weakness, smelling and tasting problems and I could not eat anything. I'm only drinking lots of water and tea with lemon. And other hand I was turbozing myself C and D3 vitamin, Zinc and CBD oil and fruits.
So I'm building up myself almost 3 weeks.
Where I am live the vaccine for Covid is not mandatory and I know that is nowhere.
But here honestly almost mandatory the vaccinating! It seems that at workplaces will request the vaccination card. So without this maybe I will be disadvanteges.
Here now cannot go the common places (spa, wellness, gym, theatre, cinema etc…) if you don't have vaccine card.
I'm only worried and hesitating for vaccination due to my Lyme disease. But I think If I would like to my job no other chance.
I cannot how will reacting my immune system for this. My unluckyly body is fightening with this stupid illness almost 19 years and now quite busy because the LD is brougth some other problems with itself (hormone, endocrin system problem etc…)
Could you advise or share anybody the experiences which type of vaccine is possible "good" or "much better" for Lyme disease?
Now here is available: Moderna, Pfizer, AstraZeneca, Sputnik-V, Sinopharm.
Honestly I'm a little bit clueless…
Thanks to everybody!

Becca Claire

05/05/2021 (8:54 pm)

Thank you for posting, Lisa, and to all of y'all sharing experience. I got sick in 1999. Unable to walk, seizures, uncontrollable involuntary movements, light sensitivity & overall sensitivity. Was misdiagnosed until 2004 by which time I was in a wheelchair, needed supplemental o2. Finally tested and saw LLD. Treated w/ abx, supplements, energy work, and hyperbaric o2 chamber which I think helped turn the tide. Basically and invalid until 2009. 80 % better. Some symptoms linger, but I have my life mostly back. Deep intuition tells me to not get shots or the vaccine. LLD says wait and see. Environmental functional MD says NO, period. I live solo in a gorgeous nature sanctuary &enjoy a life of solitude for the most part.. I would like to chat with others who have decided not to get shots or vaccine. I send good wishes to all of y'all and hope to be in touch. Grateful to have survived and to be walking, talking, and using my mind. Love, Becca Claire

David E Birren

08/10/2021 (2:35 pm)

Hi Becca,
Like you, I live a solitary life. I see people when I go to the grocery store, pharmacy, and my son's house (all vaccinated there). Otherwise, I'm a hermit. I've been suffering from Lyme symptoms for six years, triggered by an immune-suppressing drug I was given during a-fib surgery. Symptom were severe – extreme fatigue and dizziness, among other things – and then moderated after the first year. Having found a (barely) tolerable level of symptoms, I'm terrified of my immune system being upset again. So I get what you're saying. My gut says to continue as I've been doing. My head – and everyone I communicate with – says get vaccinated. Supposedly people with chronic Lyme (called PTLDS) have a somewhat better response to the Moderna and Pfizer vaccines. I'm not persuaded, and apparently neither are you. This is tough, isn't it?

Amy

04/29/2021 (4:49 pm)

I'm experiencing this as well. Have been in remission for Lyme and since my 2nd moderna , seem to be having a relapse. Has anyone seen improvement since their vaccine induced flare-up?

Melissa

11/24/2021 (12:04 am)

Are you feeling better since this post

Etienne

04/28/2021 (5:59 pm)

Really interesting stuff in here.

To share my experience, I have had chronic Lyme for about 18 months and started treatment with an LLD a year ago. Went from being a marathon runner to not being able to do much, groceries included. Main symptoms being fatigue, brain fog and joint pain. Lyme was confirmed through a Western Blot test.

3 months ago I started to feel better and better, regaining some energy and starting light workouts (biking…). I got my first Pfizer shot 6 weeks ago since I was terrified of getting Covid with my low WBCs. I was ok for 2+ weeks, them all of a sudden got extreme fatigue – like the flu but without symptoms. Had to take naps and could barely work. I got my second shot two weeks ago; the fatigue and brain fog are still pretty strong. My LLD (who recommended that I take the vaccine) thinks this is likely vaccine-related.

Hopefully this is a temporary thing but I do feel like the vaccine has reactivated Lyme. I'm going on a strong regimen of herbal treatment, diet and detox to try to contain it.

No regret taking the vaccine but I didn't foresee that. Hopefully it doesn't last too long.

Meredith

04/29/2021 (5:42 pm)

I would caution Lyme patients to think carefully (and talk with their doctors) before getting the covid-19 vaccine. I wish I had NOT gotten the vaccine. My Lyme/babesia/bartonella symptoms have largely been in remission for the past two years; but, unfortunately, ALL of my symptoms came RAGING BACK after the Johnson and Johnson vaccine this month, and I cannot seem to find any relief. Now I suspect that I'll begin the long, arduous climb back to remission ALL OVER AGAIN.

I understand that covid-19 is a dangerous disease, so the vaccine might be necessary for some. I simply encourage every Lyme patient to proceed with caution!

Nicole

05/01/2021 (9:06 pm)

merrideth me too but wasn't diagnosed.. what are symptoms

Hugh

05/21/2021 (5:06 pm)

Hello Meredith

I have chronic Lyme for a long time now over 20 years. A month ago I got the Johnson & Johnson vaccine and have a lot more exhaustion and flue like feeling since. No fun. I hope it starts to wear off after a while. I feel like I should have researched it more before I took it.

Jackie

04/25/2021 (10:46 am)

Wow, I am really glad I found this forum. I have been suffering from a mysterious illness for the past 7 years. I am now in my 30's. Previously I was healthy other than having IBD. Prior to my mysterious symptoms starting I was on a high dose prednisone for my IBD. I was camping in upstate New York and pulled 2 nymph ticks out from the back of my head. At the time I didn't think anything of it and I didn't develop symptoms until 2 months later, after a minor car accident. I have been to countless specialists (multiple PCP's, ENT, neuro, ophthalmologist, neuro-ophthalmologist, rheumatoid, infectious disease, etc) and none could find a definite diagnosis. Three of these doctors stated that I had neurological Lyme disease but without a positive ELISA or Western Blot I have been denied treatment. My symptoms were mostly neurological with fatigue and exercise intolerance. I took matters into my own hands and was able to pull myself into a functioning level with supplements. I decided to get the Pfizer vaccine since I work in healthcare and felt very pressured. A few days after receiving the first dose I was hit with a violent episode of vertigo. It's been a month since my attack and I have been dealing with constant dizziness, tinnitus, balance issues, aural fullness, and just feeling incredibly unwell. I have been seeing physical therapy and ENT which I'm sure will pawn me off to neuro. I'm not blaming it solely on the vaccine but vaccines in general are known to trigger an immune response. I was doing pretty well for the past 2 years and now I am fighting to keep my job. It's unfortunate that clinical trials were only done on healthy controls. I am trying to remain positive that these symptoms will eventually dissipate. If I could do it allover again I would have never risked getting the vaccine knowing my history. Thank you for listening to my story.

Ely

04/26/2021 (3:23 pm)

Don't know if the controversy of Lyme by the CDC is still going on. You need to find a Lyme literate doc. in your area, regular docs even specialist don't get it. My advise is a Lyme lierate doc. I also got biomagnetic theray , conventional and alternative treatments x a year and beat it. Best of luck. Do lots of research and get info from fellow lymees.

Jackie

04/29/2021 (9:11 pm)

Thank you, I appreciate your advice. It has been a long, exhausting and expensive struggle. Just when you think you are getting better, something knocks you back down.

Tina Rhode

04/27/2021 (10:44 am)

I have posted before, I had the first Pfizer shot one month ago, and have had a big flare up of symptoms, especially my eyes, behind my knees more swollen than ever before, fatigue and shortness of breath-my main treatmnet has been energy work and traditional chinese medicine. I had an IgG antibody test this week (4weeks after shot) and it came out negative for antibodies to Covid. I have read that the testing is controversial? Does anyone have any ideas on this? If it is controversial, I do not understand how there can be a vaccine given to everyone and no way to assess by testing its effectiveness? Thanks.

Jackie

04/29/2021 (9:29 pm)

The first Pfizer shot offers 80% immunity to COVID. It is still possible that you did not develop antibodies after the first shot. A small amount of people do not develop antibodies to vaccines due to their immune system. Taking immunosuppressants can also alter the immune system's ability to generate antibodies. I think there is still a lot unknown. I also saw that the COVID vaccines only offer protection from COVID for up to 6 months.

Ely

04/24/2021 (7:02 pm)

Had lyme 8 years ago. After a year treatment with specialist and magnet therapy beat it with very few symptoms left if I followed a clean diet.
Thought very hard about getting the Covid vaccine. My doc advised me to be careful.
Got the 1 dose of Pfizer vaccine 2 weeks ago. Only very mild symptoms x 1 day.
Today is been 2 weeks since. Since 2 days ago I'been feeling under the weather so I went to get tested x covid yesterday. My result today was negative (going back tomorrow for another one) Last night felt achy, some sore throat that went away, se sensitive to light, light anoying head ache. I'm in bed all day today. No fever, Motrin helps some only. Going back to retest. Can't put my finger on anything yet 🤷🏼‍♀️

Ely

04/26/2021 (3:17 pm)

Update: April 25th.
My covid test was negative 3 days ago. Chills and sore throat have gone away for 2 days, mild annoying migrane with sensitivity to light still here for 5 days now. Getting a last test today to make sure I didnt get a false negative result. Hope migrane goes away.

Cindy Souder

04/22/2021 (10:04 am)

I found a tick on me two days ago. Yesterday it was itching a lot. Today has the definite bullseye and itching terribly. I am going to the doctor today my question is if it is limes or if I start antibiotics today should I go through with my scheduled 1st Madonna shot tomorrow?

Dr. Daniel Cameron

04/22/2021 (1:31 pm)

I would typically focus on Lyme disease first. It would be hard to tell if you would get the immunity you are hoping for while being treated for Lyme disease. You will need to work it out with your doctor,

Bea Garth

04/17/2021 (9:03 pm)

I have had Lyme Disease twice, though both times were years ago. I have struggled with it resurfacing if my immune system gets really challenged. This is happening again after getting my second Moderna jab for covid19. Initial reaction was awful first two or three days. But then tired unable to focus, sleepy, feeling like all my energy is sapped, increased itchiness, occasional bouts of sweating while at rest. I finally figured out now that its been nearly three weeks that the shot got my old Lyme disease out of remission. OK rather slow to catch on. I have started taking more of my anti Lyme and anti Candida herbs and follow my anti Lyme and Anti Candida diet even more earnestly, plus make sure I sleep more and it is helping. It actually makes sense it would re-stimulate the Lyme disease out of dormancy. Nevertheless I am glad I got the second shot since I don't want to live in a bubble. Nor do I want to chance getting one of those nasty variants. I think with my diet and herbs plus food grade bentonite and diatomaceous earth I can counteract this again. By now am allergic to most antibiotics and have a host of food sensitivities, so hospitalization is not something I would ever take lightly. I had what I think was Covid19 in late December 2019-plus my husband, co workers etc. After I had gone to an art festival all day with a bunch of mainland Chinese. Of course they didn't know they were carriers either. No one knew. I treated myself with herbs and diet, steam etc–it took two months before I got over the pneumonia. A friend of mine almost died and had to go to the hospital for an unknown virus. He is still not 100% even though its been well over a year. He gets all kinds of treatments from the hospital for his heart and lungs etc. But now finally doesn't need as much now. So I think one needs to treat this potential disease with kid gloves. I am having issues but I am dealing with it and feel confident I will overcome my current status. Its not near as bad as the original Lyme Disease or Covid19. And yes my brother with Downs Syndrome died of Covid19–yet another reason I want to avoid going into a hospital to treat this bug if at all possible. Science shows No one dies or has to go to the hospital for Covid19 after receiving these antiviral shots. It may be frustrating and way uncomfortable, but I think its worth it.

Donna Brooks

04/08/2021 (12:12 pm)

I am 65 and had Lyme disease almost 4 years ago. I was never so sick in my life. I couldn't get my fever down below 102 1/2, I could not breath, going up flight if stairs and I was gasping for breath. Sitting outdoors in the sun a d I was gasping for my breath. My doctor diagnosed me with bronchitis and gave me a Z-Pack which did absolutely nothing and an inhaler for my breathing. I started to do some research a wow I realized I had every symptom for Lyme disease. We live in an area in NJ that is heavily invaded with deer. I was gardening in my back yard in early May and must have been bitten by the tick. I will tell you that I did eventually find the tick burrowed behind my right knee where it bends but I never developed a bullseye. I did develop a rash around my wrists which my doctor said was poison ivy I must have gotten from my back yard. The Z-PAC did not help and I was not feeling any better. I am a very active woman and by 1pm everyday I was on my couch wrapped in a blanket trying to get my fever to go down. After doh f some research on my own I realized I had every symptom of Lyme Disease and I I went back to my family doctor and asked him to do a Lyme test, to which he answered me "you did not have Lyme disease". That was on a Friday and Monday morning my doctor called to tell me I did indeed have Lyme Disease and immediately started on the doxycycline. Almost 4 years later I still have brain fog at times (my kids have no patience for me, lol), I have a constant ringing in my ears and I have to ask everyone to repeat themselves if they are talking to me from behind as their voices sound muffled to me. But my biggest long term side effect from Lyme Disease is Leaky Gut Syndrome. Tick borne infections such as Bartonella and Babesia can directly affect any organ system in the body including your gastrointestinal tract. 80% of your immune system is located around your digestive track so digestive health influences the immune system. Gastro symptoms of Lyme disease range from food intolerances to constipation which I have both. I suffer from severe bloating and abdominal pain after eating. . My infectious disease doctor and gastrointestinal doctor both suggested vitamins, supplements and a prescription to help move the bowels, a change in my diet and some gods old fashion exercise. Yoga Pilates and barre workouts are my go to and all 3 help with muscle and joint pains I also have from the Lyme Disease. I now have my Lyme Disease under control but the bloating and stomach pain are still is a constant when I eat the wrong food. I am so afraid to get the Covid 19 vaccine and I am scheduled to get my first dose of Pfizer on April 14. The thought of my immune system going crazy or my Lyme disease becoming activated again scares me. I take Vitamin C, Zinc, and D3 all which have been recommended to boost your immune system to reduce your chance of contacting Covid 19. I have been exposed to Covid 3 times and all 3 times I tested negative. Most recently in Feb my daughter and granddaughter were exposed to Covid and my grand daughter tested positive and my daughter tested negative. I babysat my granddaughter the day before my daughter was contacted. I was hugging and kissing my granddaughter for hours and when my daughter called me the next day to inform me she and her daughter were exposed to Covid she suggested I get tested also. I waited a couple days to get tested and when my test results came back I was negative for Covid. My daughters husband started feeling ill after a couple days after my granddaughter tested positive and he went to get tested for Covid and tested positive. With being exposed 3 times to Covid and testing negative all 3 times I feel the D3, Vitamin C and Zinc are doing there job and the fear of the side effect of the Covid vaccine in conjunction with still suffering from long term issues from the Lyme disease is why I am afraid to get the Covid 19 vaccine. After reading all the comments above, I am almost 99% sure I am going to cancel my Covid 19 vaccine. Thank you to everyone for your comments, they are very helpful for the Lyme Disease population that is looking for some guidance to getting the Covid 19 vaccine.

Cathy

04/09/2021 (8:30 am)

I wrote here about my experience with first shot and feel I should update as to second shot

First shot I felt GREAT .. like pre Lyme great for 4 days and then was tired , headache and nauseous for a week like a low grade herx

My acupuncturist who is a PhD microbiologist /immunologist believes that the vaccine also recognizes other virus fragments and " cleans them up"… so that those days after we're like detox reaction days bc my body was tired

I got my second Moderna yesterday

No real reaction.. my temp only has gone up 1/2 a degree.. my arm is less sore than first shot and nothing else… but I will keep an eye out in the next few days

I also believe that some reactions listed in this forum are not as a result of Lyme but of this from a site re vax reactions 👇🏼

"In the Moderna Clinical trial, 16% of vaccinated people had symptoms of new or worsening joint pain after the first shot. While 45% were more likely after the 2nd shot. 23% of people vaccinated were more likely to have new or worsening muscle pain (not at the sight of the shot) after the first shot. And 61% were more likely after the 2nd shot.
Systemic worsening in symptoms after the vaccine was more likely to happen in those < 65 years of age in both trials."

Having said this , each persons body is different and age , sex , additional underlying conditions , environmental toxic burden have a role

Will update … I'm glad I did it .. it was a VERY difficult decision , but I know what would happen if I got it given my age . (71 today!!)… and the B117/P1 variants are like wildfire

Good luck to you all . Honestly, after I read some posts here , I was considering NOT doing it . Glad I did listen to my gut and weigh the risk/benefits and got it .

BTW.. I have fought AND survived late diagnosed Lyme for 11 years .. two bites /infections

tina osberg

04/10/2021 (6:23 pm)

It is great that you did not have a bad reaction, but that does not negate the experiences of people who are having a bad reaction, such as myself. I think we all know that many people without Lyme have reactions, especially to the second shot, and especially the Moderna, which typically last a day or two. Two weeks ago I had the first Pfizer and I am still sick, my knees are very swollen,(front and back) my eyes really hurt, I have extreme fatigue and more numbness and more shooting pains than usual. I took a chance. No one knows the intermingling of the vaccine with lyme and the mechanisims involved. My husband, age 65, who is healthy and no lyme had both shots with absolutely no symptoms. As you did note, each person is different, most especially with such a very difficult disease.

Tammy

05/01/2021 (11:33 pm)

I'm glad you did well with it. Older people have less side effects to the vaccine than younger because of weaker immune systems. Women also have much, MUCH more side effects than men, mainly because most of the test subjects were men. You can't test male majority and deem it safe for everyone. I can't believe in this day and age this still goes on. We are different!

Michelle A Statham

04/09/2021 (7:50 pm)

I am waiting it out for now I am in Texas where Lyme disease is considered not real and as the vaccines were only tested on well people I am really concerned about getting any with Lyme disease.

Julie

04/08/2021 (7:03 am)

I had no idea other lyme patients have had problems like I had to the vaccine!

I got my first and only COVID vaccine on March 7th. I was hospitalized overnight for observation on the 9th with a fever, worst headache ever (saying a lot,) non-stop vomiting that didn't respond to anti nausea meds, sweats, chills and general flu like delirium.

For background; I have been disabled since 2010 having left an awesome job as a full time university museum photographer due to mystery flares of profound fatigue, unexplained muscle burning and agitation, blurred vision, body pain, recurrent herpes flares, insomnia and chronic migraines.
My disability has been based upon my migraine diagnosis although no doctor could explain the worsening mystery flares I've been having since the mid-2000's other than them possibly being related to the chronic herpes virus. (I had no idea I had herpes until 2008.) It must have been latent as my partner at the time was negative. In 2018 I was hospitalized for two days with Lyme meningitis after a new tick bite and subsequently have had severe acute flares of Lyme in 2019 and then all throughout 2020 when I became progressively sicker with neurological issues (blurred vision, lack of coordination, rage, mental confusion.) there were no new tick bites in 2019 or through the Winter of 2020.
After finding a reasonably competent local rheumatologist in the early Spring 2020 who tested me for literally everything under the sun, including a spinal tap for both herpes and Lyme, I was diagnosed with neurological Lyme. My C4a was 6800. A month on IV Rocephin in October 2020 provided a huge amount of relief. I now suspect I may have had a smoldering case of Lyme since the mid-2000's based upon symptoms which became neurological with the new bite in 2018. I literally walked away from my identity and lifelong career as a photographer. Luckily I had good benefits through my university; although it took an 18 month fight with two sets of attorneys to get on SSD as well as my long term university disability.

I now have a new LLD in Syracuse who upon hearing my reaction to the vaccine strongly cautioned me to think very hard about getting the second one. Honestly I was crushed despite being filled with abject terror at my upcoming 2nd vaccine appt. I know I'm very sensitive to histamines (and hyper-sensitive to many medications), but other than that had no idea my immune system would be so hyper-reactive to the vaccine. My primary care now agrees that I should hold off on the second. Luckily my friends and family are all successfully having both doses of the COVID vaccine.
My new LLD suspects co-infections of either or both Babesia and bartonella; one of the glands in my neck has been off and off swollen in addition to constant sweats, neuro symptoms and severe rage flares. Or possibly lingering Lyme. Some though not all of my Lyme/co-infection symptoms have returned since getting the first vaccine dose.
I reported my reaction to the CDC, but like many here now distrust the CDC after what I've learned over the past year about the split in the medical community regarding Lyme. Our local infectious disease doctors are an absolute joke. It's not worth elaborating, but needless to say despite multiple acutely positive bouts of Lyme they literally sent me out the door with zero tests despite being wildly symptomatic. Their arrogance is/was confounding. Incidentally I live in the country on a farm and face high exposure to repeated tick bites.

I'm so relieved to find out from this blog I'm not alone in having a severe or adverse reaction to the COVID vaccine. I am still pro-vaccine in general but know that like every vaccine based upon the millions of doses safely given there will always be a tiny cohort than has an adverse response.
I'm starting another round of antibiotics in another week once I become acclimated to the supplements my LLD prescribed to take in conjunction.

Thanks for reading.

Julie

Nancy

04/08/2021 (10:53 pm)

Thanks for sharing about your Lyme and your reaction to the vaccine in detail.
Could you please share the name od your LLD in Syracuse, NY?

Julie

04/09/2021 (3:39 pm)

I just started seeing Dr. Heidi Puc at Integrative medicine of CNY

Becky Engelby

06/26/2021 (10:52 am)

I acquired Lyme in 2014 after it went neuro with on-going flare-ups. I consulted my doctor regarding getting vaccinated and she strongly recommended Pfizer as the safest option. I also have Multiple Chemical Sensitivity after the city sprayed Roundup and 2,4-D that poisoned my dogs and I in 2010. In 2018, I was diagnosed with Stage IV endometriosis and have now had 2 surgeries to separate my organs. I was hesitant to get the vaccine but I was told it would be dangerous for me if I contracted COVID with my other conditions so I did. For the next five weeks my feet and legs were swollen to the point of extreme pain when I tried to walk. Felt like tendons were being pulled from my bones. Fatigue, joint pain, night sweats and brain fog was bad too. I declined the second shot.

Monica Davis

04/06/2021 (6:55 am)

I have had chronic Lyme since Oct 2018, and received my second Pfizer vax on 3 April. I left my "Lyme specialist" Summer 2020, b/c I honestly felt like she dooped me, just throwing expensive supplements my way and never seeming to truly care about me – and go figure, within a month of stopping all her recommended treatment, and creating my own routine – I started feeling better. Better than I have in years. I would even go as far to say my Lyme went into remission when I took control of my own treatment. So I was nervous about the vax, but had recently (and finally) receive my tetanus shot without any issues. I had waited to get it b/c I was told I may have a bad reaction due to my Lyme being so active. So I stopped treatment, felt better, got my tetanus shot, had no symptoms, and felt better about getting the COVID shot. First shot was on 12 March, I felt tired and had minor arm pain. That was it. I was feeling SUPER energetic, super joyful, and all my Lyme symptoms were at bay. My biggest Lyme symptoms are cognitive decline, anxiety and panic, irritability, fatigue, sensitivity to light and noise, joint and muscle pain, and GI issues (yeah you guys get it). After my second vax on 3 April, I was soooooo tired the night of, slept okay, and as an avid athlete, woke up the next day, pushed through and did what I would consider a mediocre cycling workout and took my dog for a long walk. Was still relatively okay around 6pm that evening, but at 8pm I began feeling super irritated, anxious, and tired. I went to bed, had night terrors, and woke up with a fever (so this was yesterday). I spent the entire day on the couch, it was 70+ degrees outside, so then I felt really depressed about not doing anything. I ended up having crying spells last night, and my irritability was through the roof. I cried myself to sleep, had more night terrors, and this morning I am feeling exhausted and had a small fever that has now gone away. I have some brain fog, headache, I am feeling really low, and my appetite is gone. I am going to give it a few more days, but I really believe that the vax reignited my Lyme symptoms. I probably didn't help matters stressing my body by working out either (but I did that after the first shot and was fine). I am just hoping these symptoms are temporary, and not my Lyme coming out of remission with vengeance. Even though it has been over two years after my Lyme diagnosis, I feel like a newbie in the Lyme world, so seeing this article has made me feel less alone and heard. I look forward to reading more. Thank you for reading 🙂

Kristie

04/06/2021 (5:06 pm)

Monica,
I am so sorry to read your reaction. I am quite worried about getting the vaccine so will be watching for an update on your symptoms over the next few days. Hopefully it's temporary and you will be feeling better soon.

karla scarlatti

04/01/2021 (10:12 pm)

I've had Lyme and Bartonella for 30 years, and mostly I've managed well with herbs. Unfortunately, 2 years ago I went into anaphylaxis and for months after had to deal with a whole histamine drama that was totally new to me. ( These days I never know when an avocado, or yogurt, or some unknown thing will make my face swell up and cause difficulty breathing). I want to get the Covid vaccines (J&J, so I only have to do it once) but my concern is the possibility of another over-dramatic response or just more reactivated Long Lyme . I've decided to stick with an anti-inflammatory diet for the next few weeks, and I've ordered some Buhner tinctures for calming cytokine cascades. If anyone here has other suggestions or ideas, I'm really eager to hear them! Thanks. I'm wishing you all the best, as well.

04/05/2021 (7:26 pm)

I had read with great interest comments on lyme and covid vaccine-I saw alot of negative results from taking the vaccine, and now I can add myself. I am 73, got lyme age 65, had a tick on me for 2 days, southern NH, could not get treatment at all for 2 months(dr was in Boston). (took the prophaletic, had no rash). Tick tested positive for lyme. now a slow non ending progression, eyes, mouth sores, both knees front and back, numbness-fatige, sciatica shooting pains. I thought I was going to die when I had the shot 10 days ago, shortness of breath, heart, walked around to get a grip-since then exaggerated lyme symptoms, fatigue, feel ill. Felt I had to get some protection, but if these symptoms do not resolve, not taking the 2nd Pfizer shot. Way back when I saw Under My Skin, and it saved me psychologically-that was me and no one understood or believed me (same old story I guess).

Leslie

04/05/2021 (7:48 pm)

I've been dealing with Lyme and babesia for about eight years. I am now also the 24/7 caregiver for my mother since her stroke. ( this is almost impossible because I can barely take care of myself). I got my mother fully vaccinated for COVID and her only side effects were a sore arm and a slightly elevated temperature. Needing to be able to bring in caregivers I weighed the risk/benefits of my condition vs vaccination for myself and decided it was worth the risk. Unfortunately I had a bad reaction to the Pfizer vaccine. I expected to feel worse than most people but I was not prepared for the severe spinal cord inflammation that occurred about five hours after that first shot. I was unable to sit or stand due to the heat and pain along the length of my spine , and even taking a deep breath was extremely painful where my ribs joined my spine. Thankfully this agony only lasted about seven hours and then started to fade away , leaving me with more common symptoms of just a sore arm and fatigue and nausea. I am sad that I cannot take the second shot. But after this experience I know I can't.

Catherine

03/30/2021 (10:25 am)

Are you participating in the CDC survey using their app?

04/16/2021 (5:05 pm)

Why would you want to take the second shot after such a severe reaction!? I have had Lyme disease over 10 years. Was treated finally by a LLD for 2 years and went into remission for 5 years. Then started having migraine like headaches again which my doctor said was the babesia. I have been in treatment again for the last 3 years mainly for babesia and bartonella. I have had leaky gut issues and allergy issues ever since contracting Lyme disease in the 1990's. I have learned to live with these chronic issues by taking herbs, supplements and digestive enzymes every time I eat!! I also have constant ringing in my ears and constant watery eyes and anxiety. I also have glaucoma. The insomnia has gotten better, but I still have joint pain, rib pain, restless legs and muscle twitching at night. I have done research on the vaccines and hear that people with allergies should be cautious because the mRNA is incased in PEG which about 70% of the population is allergic to and can cause reactions. The vaccine was fast tracked through the system therefore did not go through all the safety trials. It is not FDA approved yet and they are unsure of the long term effects. I have read it is not recommended for anybody with immune dysfunction, autoimmune diseases, cancer, diabetes, Lyme disease and EBV. I personally don't choose to be a lab rat…..I believe in a more cautious wait and see approach. Besides I choose to be proactive with my health by taking supplements like vitamin D, C E and zinc etc. to keep my immune system strong rather than going straight to the vaccine first. I am not anti-vaccine either! I work in health care and usually get the flu shot.

Dennis P

03/29/2021 (7:54 am)

5 days ago, I got a tick bite which resulted in a raised redness area at the bite site. I suspect it's the beginning of Lyme disease. So I guess I will need a Lyme disease antibiotic. I am between doctors as mine has retired. I am scheduled to have the 2nd Moderna shot in 2 days. My question is how long I should wait between the 2nd Moderna shot and Lymes treatment.

Dr. Daniel Cameron

03/29/2021 (8:31 am)

Good question. I wish there was an answer. I have advised my patients to follow the Moderna schedule to achieve the immunity described in the trial. Your doctor will have to decide if the raised redness is from the tick bite or from Lyme disease.

Kris

03/29/2021 (9:08 pm)

I have what the CDC terms Post Treatment Lyme Disease Syndrome as I was treated at onset 11 years ago with a couple of weeks of amoxicillin after testing positive (I was lucky my doc recognized the symptoms as I didn't have a bullseye rash) but had Lyme flares after treatment for many years. I have been doing pretty well with only maybe one bad flare the last 2 years so am quite worried about the unknown of the vaccine and if it would reignite Lyme symptoms. Any thoughts on post treatment Lyme patients and the vaccine? Has anyone had better luck with the J&J vaccine?

Alyssa

03/28/2021 (8:58 am)

I just wanted to add my experience to help inform other people with Lyme. I've had long term Lyme for 11 years now with mostly neurological symptoms. I'm a 28 yr old female. I got the first shot of pfizer three weeks ago, and only experienced strange dreams and sleepiness for a couple days. Yesterday I received 2nd pfizer shot. A couple hours later I was very drowsy. Then I began feeling irritated and angry. I became confused and a bit delusional, I couldn't recognize my father and I was saying very strange things to my parents (I live at home with them). After taking prescribed Xanax, the neurological symptoms calmed down a bit. Then I began having extreme chills and fluctuations in temperature, with unbearable ringing in ears. In the middle of the night I started throwing up. Almost 24 hours later, I feel a bit better. Was this horrific? Yes… but I would do it again if it means protecting myself and others from covid. I can only imagine how I would have reacted if I had actually contracted covid. I recommend staying with a close family member or friend if possible after getting the doses, if you have severe neurological Lyme like me.

04/06/2021 (2:31 pm)

20 years ago, I contracted Lyme and was undiagnosed for several years, spent a TON of money with no help. I was treating folks with lyme and advocating for them but in denial of my own condition. A patient said to me one day, "you have Lyme " amazing. Life Finally, went on all organic fruits veggies, walking, and HBOT. I am a PT and a child on my caseload who has CP was using it and I went in with her. After the first time in, all of my neurological symptoms (extreme dizziness, spinal contractions with pain, fatigue, brain fog) went away, completely, I did 10 day rounds off and on for 2 years and have NO symptoms of Lyme. I feel so fortunate and want to share whenever I can. I know HBOT (oxygen) is expensive so I now have an ozone machine. I'm worried about the vaccine but am gearing up to get the first shot and see how I do. I also am a CA and Hep C survivor. And I"m vertical with good lifestyle choices. Best to everyone, Perfect storm!

Jason P

03/27/2021 (11:29 am)

So I was recently diagnosed with a new acute lyme infection. I was on doxycycline for 4 weeks. My main symptom was joint pain in my knee. I fished my antibiotics about 4 weeks ago and was finally feeling better. I was able to run again and felt like I was back on my path to normal. Last Wednesday (3/24/21) I had my first dose of the pfizer vaccine. Within 24 hours my knee pain started up again. At first it was just a slight pain when bending but now I can't bend my knee. I have no idea of it's related to the vaccine, I just find it curious that 24 hours after the vaccine, my knee pain that had been gone for weeks kicked up! I'm going to my PCP on Monday. Currently the joint pain has remained flat. With my lyme infection, the pain just ramped up until I couldn't bend my knee much. I'm hopeful this is just a charged up immune reaction to the vaccine. I guess the will tell

Simon

03/25/2021 (10:02 am)

I had my covid vaccine 4 days ago and ever since my lyme symptoms have gotten much worse everything hurts neuropathy, muscle pain, joint pain, …certainly not looking forward to the second jab ..I wasn't in remmision but was certainly having more good days than bad. hope this calms down soon

KATY

03/19/2021 (4:51 pm)

I had the Pfizer vaccine a month ago, now I have major joint pain flare ups, especially across upper back, hands wrists, arms , shoulders and more recently in my buttocks, and sleep problems and constant tiredness. I've had a load of blood tests done and nothing is showing other than my ongoing low WBC. I had covid in November but was offered the vaccine for work purposes. I'd been relatively free of Lyme symptoms for a couple of years after getting it 6 years ago. I will not be getting the booster that's for sure but I also wonder how to treat myself moving forwards? Is it a case of treating myself for Lyme all over again with a protocol? At a loss with how to move forward and hoping this subsides and won't be chronic forever.

Dr. Daniel Cameron

03/20/2021 (8:26 am)

I understand you had COVID-19 November 2020 followed by the vaccine February 2021. I wonder if part of the issues are long-hauler COVID-19. Your doctor will have to work out a plan.

Mike

03/17/2021 (3:15 pm)

I'm wondering what rate of abnormal post-vaccine side effects (beyond a few days) lyme patients are experiencing?
Also, if this is above the general population average, would this imply chronic lyme is an autoimmune issue, and not an active infection?

Dr. Daniel Cameron

03/18/2021 (2:27 pm)

I have the same question.

Tammy

03/14/2021 (11:51 am)

I'm getting my first vaccine in 3 days. Would it be good to start my Lyme protocol again as a precaution? Dr Buhner's based tincture, etc? I'm so afraid but more afraid of getting Covid. Thank you.

Dr. Daniel Cameron

03/15/2021 (2:10 pm)

I am not sure what I would tell my patient with the same question. I would point out that it would be difficult to determine whether a symptom is a Herxheimer reaction from the protocol or a COVID-19 vaccine problem.

Tammy

03/15/2021 (4:31 pm)

Today I was thinking the same thing about herxing. I decided against it. Thank you.

Tammy

03/18/2021 (4:04 pm)

I just wanted to drop in and say that it's been over 24 hours since I had my first shot of Moderma. I feel fine and ironically, it's the first day I haven't had a headache in a very long time. My arm is a little sore and I'm sleepy. A different tired than Lyme tired but that's it. I am dreading that second shot but I'm going for it.

Cathy

03/19/2021 (7:51 pm)

Same here
I actually felt amazing… better energy and no mild headaches ( better than pre Lyme 10 yrs ago() for days 2-3.. then felt fatigue 4-7 and today feeling better

I am still nervous about dose 2of this Moderna

But I live in Florida where there are a lot of variants and no mask order … and I am a type A blood which have a worse outcome if we get it … as do people with EBV ..( new research u can fund in Google .. the connection w bad outcome of Covid and presence of EBV titres) . my titres are old but still high as many of us lymies

It's a trade off, but I admit, I am nervous about it

Tammy

03/21/2021 (8:46 am)

Me again. I don't know if this is Lyme related and have seen other women without having Lyme experiencing similar. I am a menopausal woman and yesterday (day 4 after receiving first dose of Moderna) I started bleeding like a light period. Still bleeding today and am very crampy. It has me concerned. I've been exhausted but sleeping much better than before the vaccine. I feel in more pain than usual and those darn daily headaches have returned.

Megan

03/22/2021 (1:54 pm)

Hi Tammy,
I'm wondering how you are doing? How interesting that it kick started your cycle. I just had a positive western blot in November and sort of thought it was false or should have been IgM but my initial fatigue and leg buzzing sensation symptoms increased to loads of weird neurological symptoms and now I am pretty sure I'm having active Lyme. I cannot decide about the vaccine and I feel so stuck. No access to J and J so I would have to go with another. I'm set to travel and see my family that I haven't seen in two years, and I'm thinking maybe one dose would give me enough protection. Any more people have one dose reactions? (Should read IgG-can't seem to go back and fix it)

Tammy

04/06/2021 (9:08 pm)

Hi Meagan. Thank you for asking about me. My post menopausal bleeding lasted about 4 days. Though Lyme makes me tired in general, I have to say I've been more exhausted since my first vaccine. I seem to be experiencing flares more frequently as well. I have been under a lot of stress and have heard that can trigger flares so who knows. I don't bruise easily but have had a rather large dark bruise on my leg for a week that doesn't seem to be fading which I found a bit odd and I don't recall hurting myself. I am on the fence about getting my second vaccine. Mainly because of the bleeding. I saw where Israel is doing a study about this. I'm glad someone is.

Tammy

04/27/2021 (6:56 pm)

Hi. I thought I'd stop by and share this survey about those with Lyme receiving the Covid vaccines and how they did. https://www.lymedisease.org/covid-vax-lyme-survey-results/ As for me, I decided against getting my second Moderna vaccine. The post menopausal bleeding frightened me enough, especially after reading about women who have had worse. It's been well over a month since my first vaccine and I'm still getting bruising on my legs but they're not as deep in color. I've also been more exhausted than usual since the first vaccine and my pain has increased.

Dana Brenner

03/13/2021 (4:51 pm)

I had many long term tick borne illnesses and was successfully treated and in full remission enjoying life at the age of 51. I spent years trying to get them under control and finally found a doctor in Idaho who eradicated it all for me. I have had four years with my life back! My son has a rare genetic disorder that means his pulmonary/respiratory function is compromised. As a caretaker of a child like this, I was offered the Covid vaccine early. I was really on the fence. I had watched my doctor in Seattle lose his license for telling the truth and helping people. Like many, I don't trust the CDC for very good reasons. But, in order to protect my son, I broke down and got the Pfizer shot series. It's now about one month post-second shot. I'm deeply systemically ill. My liver is shot- with ALT numbers in the 200s. EBV, Hashimotos are back. Neuropathy, joint issues, I could go on….I'm as sick as I ever was. Cognitively I am ok this time, but the body is a mess. I'm trying to get back to Idaho to be treated but I can't travel because I am so inflamed that I have terrible hemmeroids that keep me from being able to sit for more than a couple minutes and will require surgery. I honestly can't say that I should or shouldn't have had the shots. There are so many risks all around. But I can tell you that the vaccine deeply damaged my immune system, that I'm very scared, and that my son now has a mother who can't care for him.
What will be even harder is determining whether to immunize HIM or not when the time comes. He was born with congenital l Lyme (treated), as well as the genetic condition. The mutated gene associated with his syndrome is CRELD1, and has been found to involved in the stabilization of the immune system. His father is adamant that he be vaccinated. We are divorced and I do not necessarily agree. I'm terrified that if he gets the vaccine, he will seize uncontrollably like others with more involved presentations and become in a vegetative state.

Karen A. Killeen

03/15/2021 (2:26 pm)

I'm sitting here after googling covid 19 vaccination (my first Pfizer last Wed 3/10) as I am dizzy, headache, exhausting fatigue, bouts of crying, muscle aches in my legs and joints have started. Last night I said aloud omg how could I have all these Lyme symptoms all over again. My chronic Lyme related tinnitus has escalated from its 3-4 to 7-8. I was first treated for Lyme in 2007,2010,2013 , and have done very well since then until last Thursday , 1 day after getting the first Pfizer shot it started and each day is increasing with last night's crying bout and wipe out with headache. I realized I must be having a flare up? I retired in June 2020 from 40 years as a visiting nurse and Acupuncturist in Bronx NYC and was strong and healthy until this now happening to me since the vaccine. I should have thought of the Lyme before the vaccination, although I had unsuccessfully tried to find the J&J which I would have preferred but perhaps that would make no difference. By the way Dr Cameron was my LLD who successfully got me thru the hell of Lyme and I also used Stephen Buhner's herbal protocol and Heiner Fruehauf's herbal treatments.
I was thinking I need to call Dr Cameron today to ask him if I could be having a Lyme flare up and here is his article that came right up on Google. I am trying not to sink lower seeing that I am in trouble now and will need to do something to help my immune system. Thank you to everyone for posting here and for sharing and hope we all recover soon. Blessings to all of you.

Sheree Lines

04/09/2021 (6:57 pm)

Gosh, I don't know what to do! My Lyme (2004- 2006) was ten times worse than my breast cancer (2009) but if I want to see my grandchildren in London, UK, I have to have a vaccine. We have Pfizer here with Astra Zeneca coming soon. I am terrified my Lyme will come back but chemo and a 9 hour double mastectomy didn't bring it back? I could hold out until October because we just cancelled our April trip but my family really wants me to have it since our Island has high numbers now. I don't think I could handle the knife pain throughout my body and weakness with Lyme symptoms ever again. I need to make sure that I never have to get that wheelchair. I am able to do Pilates and speed walk now! So torn!!

Sandy

03/26/2021 (6:06 pm)

Would you please give me the name of the doctor in Idaho that treated your Lyme disease.

Shelley Mack

03/28/2021 (8:53 pm)

I would like the name of the doctor in Idaho . I am working with someone in Oregon and I've gotten better but still lots of pain

Gina

04/11/2021 (2:45 pm)

Who was your doctor in Idaho?

Henry

03/11/2021 (12:24 pm)

I had the first of two moderna vaccines 9 days ago. I have had Lyme for 5 years, and my worse symptom is muscle and joint pain. I was OK for 2 or 3 days, then the pain started to increase significantly. I had a vitamin C drip and 2K shot of glutathione, and it got better but that only lasted a day or so. I am going back in for another drip in a couple of days. I am scared to get the 2nd vaccine, but also scared not to get it. :-/ I hate going backwards, but hopefully this won't drag on for months and months.

Dr. Daniel Cameron

03/11/2021 (5:09 pm)

The pharmaceutical companies have recommended to not take the vaccine if there is an allergic reaction. I have not seen any advice regarding what to do when there is a flare-up. I would expect that it will be a tough decision as to whether to take a second dose.   

Kelly Cicchino

03/10/2021 (8:12 am)

I have had "new" lyme diagnosis 5 times- different titers over the last 12 years. Yesterday's recovery after 2nd moderna shot was all lyme feelings: achy, Fatigue, slow moving. This morning woke up energetic, more so than usual. I'm hopi g the vaccine shocked my system in some way. Hoping it continues. Good luck everyone!!

Gretchen

03/09/2021 (11:31 am)

I am slated to get the first shot of Moderna in a couple of days and am now have misgivings in that I tested positively for Babesiosis again 6 months after most likely having COVID-19 starting Feb 25, 2020. I tested negatively for antibodies to C19 in June but positively for Babesiosis again. The issues with thrombopecenia and the mRNA shots is freaking me out two days from shot time. What to do?!?! Husband got the J&J and now I am wondering if I should just wait and get that one instead. Officially exhausted with the entire situation. Thanks for any insight. I had red petichia when I was sick with COVID-19 and even prior at times.

Dr. Daniel Cameron

03/09/2021 (5:38 pm)

The Babesia antibody typically stays positive even if the infection is over. I base my treatment clinical presentation rather than the test. I have not reviewed information regarding the thrombocytopenia to answer your question.

03/08/2021 (6:14 pm)

I was diagnosed with chronic Lyme and 3 co infections in 2018 and was treated for 6 months by LLMD. I felt better and was more active for awhile but have been in bed for most part since January 1, 2021. I have been struggling with some of the original symptoms such as extreme fatigue, nausea and diarrhea that comes and goes, loss of appetite and weight loss, nerve and joint pain, ect. There are no LLMD's in my area and I would have to travel at least 5 hours to nearest one. My PCP has advised against getting the Pfizer or moderna vaccines and wants to wait on more info before making a recommendation of the JJ vaccine but I want to get vaccinated to get back to some kind of normalcy but like most of your subscribers I am afraid it will make me worse. Should I get retested for Lyme and it's co infections given my symptoms before taking the vaccine as I read you did not recommended people with active Lyme to get vaccinated until after they were treated? Thank you in advance for your advice.

Dr. Daniel Cameron

03/09/2021 (8:39 am)

I would typically treat Lyme disease first before other vaccines. The risk of holding off on the COVID-19 vaccine is high. I would have to work the risks and benefits with each patient. I would also make sure that Lyme disease is adequately treated.

Dr. Daniel Cameron

03/09/2021 (5:23 pm)

The Babesia antibody typically stays positive even if the infection is over. I base my treatment clinical presentation rather than the test. I have not reviewed information regarding the thrombocytopenia to answer your question.

Rita Richter

03/25/2021 (7:49 pm)

I had Lyme 6 years ago, got the first Moderna Vaccine last Tuesday and have been having all Lyme stsmtoms. Joint pain, low grade fever on and off, muscle facsiculations, not comfortable and twitching on legs and arms I will not be getting the second dose of Moderna!

Lorraine Bee

03/25/2021 (10:06 pm)

Same Rita. I've been struggling with chronic Lyme for 20 years and was just diagnosed with babesia. I was on doxy briefly again before having my first jab. Moderna. I have been having painful stiff neck , chills, aches and now symmetrical joints pain , both knees, both hands, etc. whereas before it was asymmetrical. I have crushing exhaustion. Didn't feel that exhausted before. Can't eat dinner no appetite as I'm too tired to eat.

03/07/2021 (6:20 pm)

Thank you all for sharing your experiences. The information has been very helpful.

I am struggling with the decision on whether to take the J & J vaccine. Is there any information on side effects for those with Chronic Lyme?

Dr. Daniel Cameron

03/08/2021 (8:14 am)

I have been waiting for more information. For now I had relay on my patient's experience and my readers. Most of my patients have been taking the vaccine after discussing the risks and benefits. There are a few readers who describe a flareup after the vaccines.

Susan J.

03/01/2021 (6:11 pm)

I found this blog bc I was googling Lyme and Covid vaccine…why was I searching for that? Because I had my 2nd shot of Pfizer (2/18) and have been in bed ever since with exactly the same Lyme symptoms I had when first infected over 10yrs ago.

In 2010, after at least 2 yrs of a constellation of now-obvious LD symptoms, I tested "off the charts" (Dr's words) positive for LD & also had antibodies for RMSF.

Eight months of antibiotics had no effect (still tested positive for active Lyme) and I was unable to afford a LLD, but I was helped greatly by Stephen Buhner's herbal & supplemental protocol.

Although many of the symptoms came and went and I had some serious relapses, I have made progress getting my life back on track.

Then came Covid and a year later the much-anticipated vaccine. I was nervous but grateful that I was eligible. I was assured by on-site staff that LD was not a problem. The first shot of Pfizer made me feel a bit sick but that passed in a couple of days. The second shot was another story. The first thing that happened was dizziness & my blood pressure was tested at 190 over something. Regardless, I left to get home through yet another blizzard.

A day or so later it all started: fatigue/insomnia, headaches, stiff neck, brain fog, nausea, panic attacks, crying fits, irritability, light hurts , sound hurts, everything hurts. All the same symptoms I had when I first got Lyme. All the symptoms I've worked so hard to either resolve or manage well enough to function.

That's why I found myself, laying in bed, googling Lyme and Covid vaccine.

I am both relieved that I'm not "imagining" this and so very sorry that some of my fellow "chronic" (or whatever they're currently calling it) Lyme sufferers are having a similar reaction.

(For reference, I'm a 67 y/o British-born, white female, living in NYC.)

Looks like I need to start Buhner's protocol from the beginning again. I don't expect any help from the medical professionals available to me (I may have Lyme but I'm not an idiot). And, no, I won't be getting a booster if/when it's available. That's the last vaccine for me.

Yes, we all do have to weigh the pros & cons. I just wished I'd had more info about the possible cons, js.

Dr. Daniel Cameron

03/01/2021 (7:12 pm)

Thanks for weighing in.

Lauren Gray

03/03/2021 (11:44 am)

I am a nurse, and I work the COVID unit for almost a year now. I was diagnosed with Lyme disease two years ago, and because Lyme disease is so unfamiliar in the south, no one really understands it. I got COVID in December, and I do very well. I received my 1st COVID vaccination a week ago and about 13 hrs later. All the neurological issues I had when I was first diagnosed with Lyme disease resurfaced and have not gone away. My hands are numb and tingling, struggling with brain fog, etc. I am very nervous about getting my second shot, and I have made the decision not to. If the second shot is supposed to be stronger than the first, and I take it, I am screwed. Like I said, being in the south, I do not think I was appropriately treated for Lyme disease, to begin with, but I am kind of at a loss now on what to do. It's hard when you're in the medical field, and you still can't find someone to help you because they are unfamiliar with Lyme disease.

Dr. Daniel Cameron

03/03/2021 (1:46 pm)

It can be difficult to determine whether the symptoms are related to Lyme disease, the vaccine or another illness. You should work with your primary. I typically advise including a doctor experienced with treating Lyme disease as part of your evaluation if the symptoms persist.

03/09/2021 (10:52 pm)

I think you might want to considered a Lyme doctor is another state. My Doc in Washington state is Dr. Klinghardt trained and now take appointments over the phone. I know tons of great lyme doctors. You could also consult with Dr. Phillips who just recently wrote the book Chronic and see if you can get some good recommendations.

Dr. Daniel Cameron

03/10/2021 (4:22 pm)

You can also call my office at 914-666-4665.

Sam W.

03/05/2021 (9:00 pm)

Susan, as a chronic Lyme sufferer, I have the exact same concerns. Sick (literally) and tired (literally) of "professionals" telling me my symptoms are not real. If they don't believe Lyme is "a thing" how am I to trust their judgment on this? Like you, I've finally got my baseline manageable. And when I say "manageable," it simply means I am not in bed regularly any more. It has been TWENTY years of struggle – going from a fit, active person to a sporadically quasi-functional person who can fake it for a day and then must sleep for two. I am so not anti-vax and my education is in biology and organic chemistry. I get it. I just DO NOT want to be bedridden again. Like, at all. I've already lost too much of my life. Not sure which way I'll end up going on this but it seems like wearing a mask for the rest of my life is a reasonable option when the other choice may very well mean a huge relapse.

03/07/2021 (9:31 pm)

Thank you for sharing your experience. A friend just brought to my attention, possible problems for us chronic Lyme sufferers with the covid vaccine. I came upon your comment while trying to educate myself on this issue. I've had Lyme twice, luckily the second time I didn't get near as sick as the first. I reacted to the usual antibiotics used for Lyme the first time, and had to stop mid treatment. I've been told by a Lyme specialist that is why I keep having flare ups. I am currently recovering from a serious illness that culminated in the removal of most of my stomach to stop the weight loss caused by my stomach disease. I've lost over 1/3rd of my body weight and experienced severe malnutrition for several months. Although I have recovered from the extensive surgery and am only losing a pound every week to 10 days now, I've yet to regain my strength and endurance. I've been very careful, basically a hermit to protect myself from getting covid in this run down condition. I'm concerned for my bodies' ability to handle the affects of the vaccine. Especially since I am notorious for reacting to vaccines. Was sick for 3 months after my childhood small pox shot and every flu shot I've gotten has made me sick for days. I gave up getting them. Talked to my pcp's office, but you know how that goes… I am a 67 year old white female from north FL.

Dr. Daniel Cameron

03/08/2021 (8:17 am)

You will have to work with your doctors to make a tough decision as you you report that "you are notorious for reacting the vaccine."

Sandra

02/27/2021 (3:20 pm)

Any updates from Chronic Lymers who have had the 2nd shot for a while yet??

Laurie Edelstein

02/25/2021 (2:38 am)

Hi,
Now that JJ has been approved- is it better for Lyme folks
that have mass cell activation. Have appt on Monday that I keep changing my mind/ if JJ is better will wait.

Dr. Daniel Cameron

02/25/2021 (8:47 am)

I have not seen any information on the effect of a COVID-19 vaccine on Mast Cell Activation. The vaccines are intended to introduce the protein spike from COVID-19 to the body. The Johnson & Johnson vaccine introduces the protein by adding the spike protein from COVID-19 onto another virus, Adenovirus 26. The virus can enter the cell but cannot reproduce in the cell. Adenovirus 26 can deliver the spike protein to the nucleus of the cell.

Kate

03/11/2021 (12:33 pm)

So do you think the J&J one may be less risky and less likely to cause a flare?

Dr. Daniel Cameron

03/11/2021 (5:10 pm)

I have not seen a difference, yet.

Souzan

04/16/2021 (11:02 am)

I got Lyme disease in 2005 and I've never gotten my energy levels back or my mental sharpness. Three weeks ago I had the J&J vaccine and I have been in agonizing joint pain since which are just like the original Lyme disease symptoms. It occurred to me that there might be lingering connections to Lyme disease I'm glad I found this forum to hear others have similar experiences.

LA

02/19/2021 (12:03 pm)

I had Lyme 10+ years ago and have lingering symptoms that wax and wane. I had my 2nd Pfizer shot a week ago and regret getting it. It is like the early days of Lyme all over again. Fully body aches, nausea, diarrhea, headaches, exhaustion, and brain fog. If this becomes an annual shot, I will probably pass on the boosters. But that is my personal opinion. Everyone should weigh their own situation with your doctor. Best wishes!

Dr. Daniel Cameron

02/19/2021 (12:26 pm)

Thanks for sharing.

Matt

02/20/2021 (1:48 pm)

I currently have the same symptoms. Got Lyme about 10 years. Had 2nd moderna vaccine 1 week ago. Feel awful ..headaches fatigue soreness how long did this last for you,

LA

03/04/2021 (9:15 am)

It has been 3 and a half weeks since and still not better.

Liza

02/25/2021 (11:00 am)

Exact same for me. I was also diagnosed with Lyme through a positive ELISA and Western Blot over 10 years ago, and my symptoms still come and go. My reaction to the 2nd dose of the Pfizer vaccine has been awful. The typical symptoms of fever, fatigue, insomnia the first night after, body aches, etc. But then this awful headache in the back of my head set in, difficulty thinking, sore neck, and it's been a week. I'm having second thoughts about any kind of booster as well.

Karen Joy

04/06/2021 (2:11 am)

BRIEF HISTORY: Six years before I was diagnosed with LD, I let an Allopathic nurse talk me into getting the flu vaccination in 2000, I had avoided all flu shots prior , intuitively sensing my immune system was not "normal". I developed a fever that ran between 100-102 degrees for EIGHTEEN days. NO OTHER SYMPTOMS (no sore throat, cough, vomiting, dirarhea, more runny nose)! Resting MORE did not change these symptoms . I was diagnosed with Lymes Disease almost 15 years ago. I had really good luck with using Samento 2x daily after 7-9 months…slowly cut down the umber of drops and days taken starting 5 year ago (kicking myself –why did I do that?) and have had more fatigue and SI inflammation over the last 5 years . When the Pandemic hit, I realized I needed to "get back" to ramping up the daily doses of Samento . I'm 3 months in and counting!
THE VACCINE (Pfizer dose one and two). I felt yucky first day after does one, improved but did not feel great. Just functional. Then on 11 days after dose one, I spike a fever (NO OTHER SYMPTOMS–sound familiar?), which lasted 4 days ..varied between 1-1.5 degrees. May appetite remained poor for 2-3 weeks. Fever gone, but still did not feel great.
Not feeling feeling fully recovered, dose number two happened. fatigue was noticeable, just on the edge of a fever reach night. On day 14 after second dose, I spiked a fever again (appetite better this time) between 1-1.5 degrees above normal. Rest is helping slowly, but I still have to work 4 days a week. It has been about 5 days with fever this time and I still a good degree above normal.
I am comforted to read these updates from fellow Lymes sufferers, at times freaked out! I have to surrender and listen to my bodies need for deep rest right now. THANK YOU DR CAMERON FOR CREATING THIS FORUM FOR US!
BTW, when I search Youtube for video blogs about people with Lymes and their reactions to Covid vaccines, I found ZERO–is this a " thing" other people have found strange , maybe a bit disturbing ? Grateful to find you all- glad I am not alone…

Bobbie

02/17/2021 (8:40 pm)

I have registered for the vaccine/Lyme webinar from GLA on March 3rd. I was hoping between you, Dr. Cameron, and the other health professional, I would arm myself with good information to make a decision of whether or not to get the COVID vaccine. I was sick on and off since the early 1990's. I was only diagnosed 2.5 years ago with Babesia and borrelia. Treatment at the medical office where I was diagnosed was abysmal. Finally, in Jan., I started treatment with a very experienced and knowledgeable nurse practitioner who specializes in Lyme disease. I am on two medications and another one coming in a month. I am starting to feel better. Question: In the middle of treatment, would it be advisable to get the vaccine or should I wait?

Dr. Daniel Cameron

02/18/2021 (11:17 am)

I typically advise my patients to postpone the vaccine if newly diagnosed and treated. I have had to question that advice given the severity of COVID-19 for some people.  My patients have successfully taken the vaccine but some have shared their concerns on my blog and the internet.  Everyone has to make their own decisions. Perhaps, your NP will help you.

Maude Muto Cangiolosi

02/14/2021 (7:42 pm)

Hi Dr. Cameron. You treated my daughter and were always so kind. I've been in remission from Lyme and Bartonella for almost two years now. I'm terrified of getting Covid and am considering the vaccine but fear reigniting my Lyme. Any suggestions? Thank you

Dr. Daniel Cameron

02/15/2021 (7:56 am)

I am happy to hear your daughter is better. The fears around the vaccine have to be weighed against the fears of COVID-19. Not easy. I have had  Lyme disease patients who have done well with the vaccine. I have patients with Lyme disease who have had COVID-19. My readers have shared their concerns to include a flareup in some cases. I am still advising the vaccine despite my concerns to date.  My patients still have to make their own risk and benefits decision.

Joan

02/13/2021 (3:09 pm)

I got my 2nd moderna covid 29 vaccine yesterday, even though I was still experiencing some lyme symptoms flareup after my last antibiotic treatment in March — (first diagnosed in 2001 after Ill with it for 1 1/2 years)… I quit treatment back then after around 4 1/2 years of antibiotic treatment. Last year tested very positive for lyme, still. After the first vaccine I had very sore arm, but didn't notice any new symptoms … Very sore arm from yesterday's vaccine again, but very achy in all joints and fatigue, so I'll see how long it lasts … My daughter in her late 30's still has damaged lungs(60% function), and vocal chords after 8 months after having covid–she was not a smoker and in the healthcare field -my co-workers mom died last week of covid and she was 8 years older than me–after seeing what my daughter and her husband went through with covid, I decided to chance taking the vaccine…. Time will tell….

Amber

03/26/2021 (8:04 am)

Joan, how are you doing?

M Lawless

02/12/2021 (2:03 pm)

I have had Lyme for a very long time. Probably about 30 years. I was told I had everything else my whole life but Lyme was never checked. 3 years ago after a horrible bout of arthritic lyme I was finally tested for Lyme and my levels were off the chart. I have now been diagnosed with neurological lyme.Just had my first Covid vaccine yesterday. Approximately 13 hours after I woke up with debilitating pains all over my body. Very similar to lyme pain but everywhere. I was nauseous, had a fever, intense chills, headache… basically all the side effects. Then I fainted and my husband heard it and was about to call 911. I came to and knew I would be ok so I didn't go to the hospital. I wanted to share so others can think about getting this vaccine. It seems to be much more potent than other vaccines I have had in the past. I am not going to get the second one.

02/26/2021 (7:18 pm)

Oh no, that's terrible, M Lawless!!! I"m so, so sorry. (Chronic) Lyme basically turned my life upside down about 7 years ago, not fun at all, especially with difficulty getting diagnosed for years and years, then pretty sketchy/guesswork for treatment. Anyway, I got the shot today, and am so nervous!!! I'm ok so far, but it's only been about 7 hours. I figure it may be awful for a week or so, but better than dying !? But if I get as bad as you after this first, I don't know!! Good luck, I so hope it didn't last too long!!

Vera

02/11/2021 (1:48 pm)

I was diagnosed with Lyme Disease in May of 2007, was treated with doxycycline for one month, then again for 3 months, and had no reoccurrence of symptoms until 3 years ago when I was prescribed a statin for my cholesterol. Within a week I was having pain that made me believe I was having my first Lyme flare. I no longer take any statins, and have had no further issues. I received my first dose of the Moderna vaccine on January 7th, and experienced nothing but an ache in my arm. Received my second dose on February 5, and 15 hours later awoke with that familiar pain I had experienced when diagnosed with Lyme. Tylenol seemed to help somewhat with the pain, but then the fever and chills hit. Basically I was down for three days with fatigue aches and fever. My upper arm was red, warm and felt sore to the touch for 4 days. None of my coworkers experienced symptoms at the level I did. I am healthy and active, and work as a Physical Therapist Assistant, so am no stranger to different types and/or causes of pain. I firmly believe my reaction has something to do with my past Lyme diagnosis. I am interested in the experiences of others concerning the Covid vaccine.

Dr. Daniel Cameron

02/11/2021 (6:32 pm)

I am sorry to hear you had symptoms after the second vaccine. Thanks for sharing. I know my other had problems the second and fourth day after the vaccine. She has never had Lyme disease. She is well now and turning 91 this week.

Alex Harman

02/11/2021 (9:10 am)

My girlfriend is currently taking cefTRIAXone IV issued antibiotic once a day. She's on day 9 of 28. This is her third bout with Lyme in 20 years. She is 44 years old. Would you recommend waiting until her treatment is complete before getting a COVID vaccine? Would the antibiotic lessen the efficacy of the vaccine?

Dr. Daniel Cameron

02/11/2021 (9:32 am)

I have typically advised my patients to postpone vaccines until they finish treatment. The severity of COVID-19 for some people leaves us with some risk of waiting. I have had to work with my patients based on risk benefit discussion. BTW, I do not believe the antibiotic would reduce the effectiveness of the vaccine.

Lisa

02/05/2021 (7:51 pm)

I've had 2 acute Lyme infections, one last summer and one the summer before. Both seemed to respond to 5 weeks of antibiotics. I got the 1st Moderna vaccine on December 29. Two days later I began the very specific and familiar symptoms of my previous Lyme infections (headaches, fatigue, and tingly pinprick sensations in my limbs). I live in the Northeast and my outdoor time this winter has been minimal, with the exception of long walks only on pavement, and picking up just a few sticks as yard cleanup. For that reason, I could not imagine that I contracted a Lyme infection, and wondered if this had something to do with my recent vaccine. As the weeks and symptoms progressed, I finally decided I should get tested for Lyme again. Sure enough, I was shown to have an acute Lyme infection.
Since my exposure to the normal deer tick environment was basically non existent, I can't help but wonder if the vaccine may have triggered some latent Lyme in my system. How likely do you think this could be?

Dr. Daniel Cameron

02/06/2021 (7:23 am)

Thanks for sharing. I have patients with an overactive immune system after Lyme disease. They have a similar immune response to multiple events including stress, simple sugars, and antibiotics for other illnesses. I also have patients whose IgM western blot reappears over time. I can't tell if it a recurrence, a new infection, a vaccine, or a false positive. I have to use clinical judgement to determine whether antibiotic treatment is necessary.

Tracy

02/06/2021 (11:38 pm)

I had my second dose of covid vaccine two weeks ago ….I developed an infection around injection site and been dealing with the uptick in my chronic Lyme . My Lyme has been "dormant" for 3-4 yrs. I am not again on antibiotics for my Lyme as well as the infection and steroids. If I had to do it again with Lyme I would not .

Dr. Daniel Cameron

02/07/2021 (10:18 am)

Thanks for sharing you experience.

02/11/2021 (4:33 am)

Thank you for sharing your thoughts. I've been chronic with Lyme since 2007.
In addition, I received a S.O.T. treatment (antisense) in June of 2020 to battle the BB bacteria.
My doctors have advised me not to receive the vaccine because my immune system is hyper-sensitive. If given the vaccine, the cytokine storm is likely to occur for people with Lyme.
The CDC has blatantly abandoned the Lyme disease communities and lied to us for many years.
I trust my SOT and Lyme literate professionals much more than I will ever trust the CDC…. as well as WHO.

Diann Hasseman

02/02/2021 (5:03 pm)

I was treated for Lyme, Babesiosis and Ehrlichiosis with oral antibiotics for 3 years starting in 1998. I have been symptom free for about 15 years. I had the first Moderna vaccination on 1/14. Twenty-six hours later I started experiencing the neurological Lyme symptoms that I had when I was in treatment in the 90's. These include numbness and tingling in the left side of my face, tingling in my head, tingling in my legs and mild tinnitus. It is now 2/2 and the effects haven''t diminished. My doctor suggested getting an injection of Toradol. Would this be helpful, or could it be problematic for me? I fear getting the second shot.

Dr. Daniel Cameron

02/02/2021 (6:11 pm)

Thanks for sharing your symptoms after your first covid-19 vaccine. It is tough to tell if side effects are related to Lyme disease after being well for 15 years. I am glad you have a doctor who can work with you regarding the risks and benefits. I have no experience to share regarding Toradol.

Christina

01/31/2021 (5:13 pm)

Hi there. I'm disabled with Lyme and every single one of its coinfections. I was in treatment for 8 years but haven't been able to see my doc since the Pandemic began.

I am now 40 years old. I understand the risks of Covid-19 exposure, but not the risk factors of receiving any of the Covid Vaccines as a patient. Will you please elaborate on your concerns of vaccine usage for a patients like me who have multiple active infections, and organ/nervous system issues (MSIDS)?

Dr. Daniel Cameron

02/02/2021 (8:34 am)

I have a number of Lyme disease patients who share the same concerns. I have patients who have taken the COVID-19 vaccine.  I have not seen any problems with the COVID-19 vaccines to date. I am watching.

K C

04/25/2021 (5:15 pm)

My EBV is always high to where Drs think I have shingles but I don't. I have lyme, POTS, NAFLD, Babesia and Bartonella, Dercum's Disease, l treated with llmd- last round was disulfiram in 2019/2020- postmenopausal 52 with estring and scared to get the vaccine and scared not to get it too. With the J&J I read and was told least likely to cause issues but with estrogen ring worried about clots risks. Any ideas how long after ring removed that becomes a non issue and is Pfizer better option or should avoiding the shot be considered taking into consideration all my health issues. I am torn either way feeling at risk. Doctor, what is your latest update as to what you are seeing with your lyme patients and the vaccines at this time and suggestions? Are there others on the market we should be waiting for?

Dr. Daniel Cameron

04/26/2021 (1:01 pm)

EBV levels are typically high in healthy patients. I do not have enough information regarding the length of time to wait for the vaccine. I have patients in my practice that have tolerated all 3 vaccine. I am not sure if other vaccines will become available.

02/02/2021 (3:56 pm)

I am also afraid to get the covid shot. I had Lyme and Bartonella for over 15 years before I finally got diagnosed right. I was IGenex positive for Lyme and Quest positive for Bartonella. I got sick on April 16, 1986. I had a huge bulls-eye rash on the top of my right foot. I had several CDC Lyme tests in 1986 but they were negative. I was so sick I had to crawl. I am now in a wheelchair because of severe POTS, I am in kidney failure, on my second round of lung cancer. My kidney doctor wants me to get a covid vaccine but I am scared. I react very poorly to vaccines, My immune system is so messed up that I get incredibly sick from just a cold. I have Hashimoto and have no thyroid gland because my immune system chewed it up and killed it. I couldn't tolerate synthetic thyroid meds but I am fine with armour thyroid I am super sensitive to almost every medication., So trying to find out what everyone else with Lyme is doing with the covid vaccine>>

Dr. Daniel Cameron

02/02/2021 (6:05 pm)

I have patients in my practice with the same concern.

02/05/2021 (2:22 pm)

This is my first post here. I had an operation to save my life in 1975 and was given a transfusion that infected me with several diseases that were not properly diagnosed until 2001. I was infected with Lyme, either uncomplicated malaria or Babesia ( the western Blot could have been cross reactive with either) and Hepatitis C. At the time I had Hep C ( late 1975 when I was 27YO) I was told it was non Hep A or B so not to worry. I was tested for Hep C when I turned 65 in 2014 and was positive. subsequent PCRs every 2 years say I'm negative, so I may have cleared Hep C in 1975. Lyme was a different and very long story as I was mis dx'd for years until I had ocular Lyme and was properly dx'd by PCR at Medical Disgnostics lab in NJ in 2001. I have been tested thru IgeneX every 3 years since, and remain IgG positive to this day. I had a lot of neurological symptoms with Lyme, so naturally I am a little leery of the Covid-19 Vaccines. I understand the differences in technology of the various vaccines and have thought long and hard about whether to get them. I have decided, that I will take the vaccine ( and I think it'll either be Pfizer or Moderns mRNA vaccine) when it's available to me – which should be at the end of Feb, beginning or March. I think the risks of Covid-19 outweigh the risks of the vaccines. I will report back after I get the first injection. I think everyone has to look at their own situation and weigh
benefit to risk. It's not an easy decision.

02/25/2021 (7:51 pm)

I am the Author of the above post (Barb 2/5/21). I received my first injection of the Moderna Covid-19 vaccine Monday 2/22/21 and I have had zero reactions over the last 3 days. My arm was a little sore the next day, but not even red or swollen. I had neuro Lyme pretty bad, so this was a big decision for me. I'll report back after the second injection scheduled for 3/22/21.

KC

03/23/2021 (4:23 am)

Following. Eagerly awaiting your latest update.

Sam

03/23/2021 (8:36 pm)

Following as well. Looking forward to your report / experience! – Sam from Seattle

03/31/2021 (3:49 pm)

I hope the second shot went well. I'd love to know how you did? I also have neuro lyme

Pamela Cokeley

03/24/2021 (7:21 pm)

I am 61 and had my first dose of Moderna vaccine today. I suffer from chronic Lyme disease, diagnosed in 2012 . I was sick for five years before being diagnosed and I'm unable to work. I suffered physical and neurological damage. I'm praying I won't have a severe relapse. Just came out of a month long relapse with unbearable pain. Heavy dosages of Prednisone finally got it under control. Will keep you all updated.

Cynthia

01/27/2021 (11:15 pm)

I had Lyme disease in 2017 and had some residual joint pain in my right wrist until maybe a year ago. I received the Moderna vaccine on January 5, 2021 and by January 15, I could barely hold a hairbrush in my right hand. My wrist swelled up like when I was originally diagnosed with Lyme disease. I started taking ibuprofen and within a few days the swelling was down and it felt so much better but the pain has not subsided yet. I'm debating on getting the second dose. I don't want long term pain. I know there are no guarantees. Side note, last year I had Covid with no repercussions regarding my Lyme's disease.

Dr. Daniel Cameron

01/28/2021 (6:51 am)

I am happy to hear your Lyme disease did not get worse after contracting COVID-19.  I am sorry to hear you had pain and swelling after your vaccination. 

Suzanna

02/04/2021 (1:16 pm)

Hi Cynthia,
Hoping you and Dr. Cameron will see this… can you tell me what you ended up deciding? I diagnosed with Lyme and babesiosis a couple months ago, but at the time was, to my knowledge, asymptomatic (it came up in routine bloodwork), and based on some sort of levels in my blood, my doctor (just my primary, not an LLMD) told me it was a recent infection, and put me on 3 weeks of ceftin bc I can't tolerate doxy. *more below about why I'm not believing anymore that it's a recent infection, but first my question about the vaccine…

I got my first moderna dose on 1/6, and had some normal reaction symptoms for a couple days (headache, chills, nausea) but nothing major, but then my stomach continued to have issues, and now I've been dealing with some level of gastro pain and other gastro issues, tiredness and aches in my back and trunk area on and off for a month. I'm scheduled for my second shot tomorrow and I'm really worried it's going to be a worse reaction than the first.

Dr. Cameron…
Is it actually possible to tell when someone was infected with Lyme based on levels in the blood? Because although my doctor was confident it was recent, I have been dealing with a "mystery illness" since 2015 after getting a terrible virus…all of the acute symptoms went away after a few days, but I had 6 solid months of shortness of breath (feels like someone pressing on my diaphragm), which finally abated, but now I get episodes of the same whenever my body has a big upheaval, and the same tired/achiness/gastro issues I described above. I'm wondering if all this time, it was the Lyme/Babesia, and my doctor is mistaken in his belief that the infection is recent…

Thank you for any response. This has been really overwhelming to deal with in the middle of the pandemic. I also waited a month and a half to get in with a local LLMD, who I ended up not feeling comfortable with, and I just feel really adrift and unsure of what to do now, and with my second shot scheduled tomorrow, I'm starting to panic.
Any advice is greatly appreciated.

Dr. Daniel Cameron

02/04/2021 (7:01 pm)

Thank you for sharing your symptoms after the vaccine. We are all still learning about the vaccines and COVID. The severity of COVID-19 for some individuals some of the time makes everyone make tough choices.

You are likely referring to an IgM Western blot test.  I find some patients in my practice have IgM for months to years without progressing to an IgG western blot test.   Some doctors toss the IgM western blot as a false positive if the IgG does not become positive within a month.  I have had to rely on clinical judgement. I have also had to rule out other illnesses. I have had patients who have had Babesia without developing a positive test. Again I have had to use clinical judgment.

01/24/2021 (1:01 pm)

Does Lyme disease allow one to be higher up on the priority vaccine waiting list? I have many lasting issues from my ongoing 10 battle with Lyme and Co's. Specifically severe neurological, muscle wasting, severe digestive issues, Mast Cell, etc. etc.

Thanks, Scott

Dr. Daniel Cameron

01/25/2021 (3:13 am)

I have not seen Lyme disease or its complications included on a priority vaccine list. Sorry.

Heather

01/22/2021 (10:14 am)

Hello Dr. Cameron,

Thank you so much for your post. I' am 52 years old, have had Chronic Lyme Disease for 20 years and was infected with Rocky Mountain Spotted Fever in 2019 which almost took me out. I received the Moderna Covid 19 vaccine on 1/20/2021. Though I luckily did not have an acute allergic reaction, I have felt pretty lousy with flu like symptoms including, nausea, systemic joint aches, low grade fever, chills, and exhaustion. These are common side effects of the vaccine I have read. However this is my first of two vaccines. The second is supposed to be worse! Yikes! It's a conundrum as with 400,000 people dead on this country alone and millions infected with Covid, I wanted this vaccine. I intend to get the second one. I have elderly parents, one with Alzheimer's. In order to care give, I need the vaccination. I do fear for chronic illness uptick as I'm so flattened post vaccine. Thank you for all
You do, Heather

Dr. Daniel Cameron

01/22/2021 (1:24 pm)

Thanks for sharing your story with the 1st vaccine.

Dorothy Welborn Smith

01/20/2021 (2:57 pm)

I had Lyme,,babesiosis and ehrlichiosis all at once in MA in 1999. Lyme again in 2013 and 2014. Since having anaplasmosis in 2015 that is what keeps recurring every year. And now this year twice in a few months. Every illness occurred after a death of a family member. This year my daughter after 5 years with lung cancer. I've just finished 3 months of doxycycline 100 2x a day without cure. How can I improve my immune system. I have no allergies and always have a flu vaccine. I am 87 years old and my only health problem is the tick disease which nearly keeps me from walking.

Dr. Daniel Cameron

01/22/2021 (3:21 am)

I have advised my patients with a history of multiple tick borne infections to be sure they have been adequately treated. For example, doxycycline is not effective for Babesia. I also advise my patients whether they are 87 or 27 to avoid alcohol and simple sugars, exercize, and seek out emotional support of friends, family or a doctor. I also review their health to make sure there is not an underlying illness that has been missed. That is a start.

Marcie Wolf

02/07/2021 (9:34 pm)

Dear Dr. Cameron,
I have been diagnosed with Lyme and Babesia. My symptoms are improving after several months on antibiotics. I walk mile most days, and occasionally hike from 3-7 miles on a weekend. I'm an avid mushroom hunter (yes, that's how I got bitten). Why would I stop exercising?

Dr. Daniel Cameron

02/07/2021 (10:59 pm)

I encourage my patients to exercise even it they have to start slow.

Richard Sauerer

01/27/2021 (7:08 pm)

Google "VitalPlan Dr. Rawls" … a natural supplement regimen for Lyme's Disease sufferers. I've been on the supplement regimen for several years after a tick bite without any need for antibiotics. It's been a life saver!

Micah Torrez

02/02/2021 (3:36 am)

Disulfiram is the only thing that worked for me for Lyme and babesia

Janet Hess

03/20/2021 (7:04 am)

Hi –
Did you get the Covid Vaccine? If so which one? I have a close relative on Disulfiram also and we were wondering if there would be a reaction with the Covid vaccines? One doctor said ok to have but we are cautious because of a possible interaction with polyethylene glycol in Pfizer snd Moderna vaccines.

01/18/2021 (5:37 pm)

Dr. Cameron, Thank you for this blog. I have had Lyme since 1997. The good news is I have been feeling well for a good 3 years. I am concerned about the Covid Vaccine. I had a Malaria Vaccine in 2007 before I took a trip to India and had a relapse of Lyme from the vaccine. I fear this will happen again with the Covid Vaccine. I have not had any vaccines since, not even a flu shot .My questions are: If someone was to have an allergic reaction to the vaccine, would that be known immediately? What might be some of the signs of an immediate allergic reaction? If someone was to have a Lyme relapse post covid vaccine, I would imagine this would happen over time? This is such a difficult decision.

Dr. Daniel Cameron

01/18/2021 (6:32 pm)

Great question. I would suspect an allergic reaction reaction would occur early. I am more concerned with delayed symptoms if one gets the COVID-19 vaccine or is left with the risk of long hauler COVID.

Linda

01/18/2021 (8:26 am)

Dr. Cameron can you tell me and our audience how you feel about people under 30 taking the vaccine who have Lyme disease? I have a daughter who is considering it because she works in the school system and there is a large break out. I feel that her risk of getting very sick is low because of her age and she should wait on the vaccine because I am worried the vaccine is to experimental at this time. Since she is under 30 isn't she better off waiting?

Dr. Daniel Cameron

01/18/2021 (9:21 am)

The risk is low of COVID-19 is low for a daughter under 30 but the risk is still there. I would rather everyone reflect on the risks and benefits rather than dismiss the vaccine out of hand.

BigJohn

01/16/2021 (9:03 am)

Yang Zhanqiu, a virologist from Wuhan University, told the Global Times on Friday that the death incident, if proven to be caused by the vaccines, showed that the effect of the Pfizer vaccine and other mRNA vaccines is not as good as expected, as the main purpose of mRNA vaccines is to heal patients.

… A Beijing-based immunologist, who requested anonymity, told the Global Times on Friday that the world should suspend the use of the mRNA COVID-19 vaccine represented by Pfizer, as this new technology has not proven safety in large-scale use or in preventing any infectious diseases.

Older people, especially those over 80, should not be recommended to receive any COVID-19 vaccine, he said.

All of which is a problem since it is the elderly who are at most risk (quite frankly at any real risk at all) and thus who need the protection the most. The Chinese health experts instead say that the most elderly and frail should be recommended to take medicines to improve their immune system.

Of course, one cannot help but note the irony of scientists from the source of the plague that has killed millions around the world and destroyed lives/economies almost everywhere, is now calling for the cessation of the process to protect against the plague.

Dr. Daniel Cameron

01/16/2021 (10:40 am)

Your comments from the virologist reflect the uncertainty around a pandemic that has just passed the one year anniversary. I am also concerned the vaccine will not be as good as expected. i.e., will the vaccine prevent chronic manifestations of Lyme disease?

BigJohn

01/16/2021 (11:03 am)

My father has Lyme disease and is 80 years old. I am very concerned about him taking this mostly experimental vaccine.
What we are getting instead of safety is we are being used as guinea pigs in a Live Phase III trial of this mRNA vaccine.
Normally a vaccine must go through Phase III and IV trials before being used in the general population, yes?
It would seem to this reader that the vaccine was rushed to market for more political reasons, than truly scientific ones,
as true science is more conservative, but these days not with new pharmaceuticals in seems..
The country of Norway is debating whether to stop using the vaccines on
the elderly and I think that would be an excellent debate to have in the US.

Dr. Daniel Cameron

01/16/2021 (1:51 pm)

My readers of my Lyme disease science blog reflects uncertainty of whether to take the vaccine. I am happy the Norwegians are looking at the risk of death for the elderly who have taken the vaccine. The earliest results noted 23 deaths associated with covid-19 vaccination. Their finding are confusing as the authors of a report noted "In Norway, an average of 400 people die each week in nursing homes and long-term care facilities." Here is the link https://legemiddelverket.no/nyheter/covid-19-vaccination-associated-with-deaths-in-elderly-people-who-are-frail I am following their results.

Andrea

01/14/2021 (10:02 pm)

I have a two part question. I hear talk within the Lyme community that certain COVID vaccines may be a better option for us, ie, in particular J&J, and I've also heard mention of Novavax. What is your opinion on these various vaccines and how they work?

If a Lyme patient has already had Covid, should they receive the vaccine? Could it potentially further aggravate their immune system?

Dr. Daniel Cameron

01/15/2021 (7:53 am)

I am still learning. I am not sure what vaccine is the best option based on what I am reading. The CDC has recommended taking the COVID-19 vaccine even if one has had the disease. Again, I do not have the information to help you. The benefits of taking the COVID-19 vaccine appear to outweigh the risk of COVID-19.

Marija Markovic

01/14/2021 (5:35 am)

Dear Dr Cameron,
I would like to ask do you have any experience with covid vaccine and Lyme disease.I have been diagnosed Lyme disease, ELISA done IgM is increased ( 6,3 ), still waiting for Western Blot IgM confirmation I have pain in joints for almost 4 weeks and I am on doxycycline therapy since Monday (100mg x2 , 4 weeks) . Is that the contraindication to receive Pfizer vaccine and if answer is positive, how long should I have to wait after the therapy to receive it.
Thanking you in advance ,
best regards,
Marija Markovic

Dr. Daniel Cameron

01/14/2021 (6:51 am)

That is a great question. I typically wait on vaccines until I have an opportunity to treat Lyme disease first. The COVID-19 risk for some individuals appears to be too great to postpone the vaccine with what I know now.

Pat Flanakin

01/13/2021 (12:35 am)

If you have Lyme, is it safe to take the COVID vaccine?

Dr. Daniel Cameron

01/14/2021 (6:47 am)

I have concerns with the COVID-19 vaccine for my Lyme disease patients due to the effect on their immune system. I have not seen any problems with the vaccine, yet. I find the risk of getting COVID-19 is worse than the risk of the vaccine.

Pamela

01/04/2021 (7:39 pm)

Hello,
Is it safe for a person who has Lyme disease to get the vaccine for COVID-19. I'm already nervous about getting the vaccine I am not sure if it will cause any issues since I do have Lyme disease high blood pressure and Epstein barr.

12/29/2020 (6:50 pm)

I have Lyme disease and my doctor said no to me getting the flu shot. So my work wants me to take covid shot. But I work in Healthcare and my coworkers are says no for me getting covid shot. So is it safe for some with Lyme disease to take it?

12/27/2020 (9:28 am)

Dr. Cameron and Nancy Dawson. With Covid potentionally blown completely out of proportion https://thevaccinereaction.org/2020/09/coronavirus-cases-plummet-when-pcr-tests-are-adjusted/

I think we need to step back and take a long look at the potentional side effects of a vaccine vs a "wait and see" approach. My trust level for the CDC is zilch. The number of "cases" has been artificially inflated through an (intentionally?) inflated PCR testing process that makes a mouse look like an elephant. What we don't know about this vaccine would fill volumes. What we do know could be put on the back of a postage stamp with room left over for the Gettysburg address. Why is the medical community silent on this vaccine. Dr. Cameron, we need informed medical advice based on your research. I think it's a disaster driven by greed and avarice. But I'm just a mom from a small rural southern state so what do I know.

Casey Kies

12/23/2020 (12:29 am)

Hi Dr. Daniel Cameron, I was wondering if you've read about the Covid Long Haulers and if you think what they're experiencing sounds like Lyme Disease? I just read that Covid can cross the blood brain barrier like Lyme Disease can, as well as people experiencing very similar symptoms like brain fog, fatigue, joint pain, digestive issues, hormonal imbalances, and neurological issues and many more. It seems to act differently in every person, much like Lyme thus making it hard to treat. I would love your opinion about Covid Long Haulers and Lyme Disease patients and I think it would be great to bring these two communities together to help bring more awareness and more research on the similarities of these nasty virus's/diseases that continue to cause many to suffer with long term pain and debilitation! Thank you!

Dr. Daniel Cameron

12/23/2020 (7:13 am)

I agree

TJ

03/13/2021 (2:17 am)

I am seriously questioning if Lyme and Covid originated as mutations in laboratory experiments. Will injecting another laboratory agent in a vaccine help, or is it part of the bigger problem. Is it a time will tell scenario or one that we may never know. Does injecting more toxic substance in a vaccination help or harm us? And is the long haul Covid reaction Similar to long term Lyme/TBD simply cytokine storms and mast cell reactions, or Herx die-off, and therefore parallel chronic symptoms. This would require some complex and dedicated research and willingness to reveal the truth of the underlying infections. Ps. Myself, 12 or more years before discovering it was tick-borne all along, now late-disseminated multiple tick-borne infections with all of the worst symptoms possible, aggressively treating with multiple protocols with a Lyme Literate ND and medical team. March 2020 became life-threateningly down with lung infection that was all classic Covid symptoms. But weeks later tested negative, and tested antibody negative. Fallen into the cracks of "timing windows" and "false negatives". Now with chronic lung issues but no proof it was Covid. Now long-haul Covid with Late stage Lyme. Working my protocols, looking forward to a healthy life again. And, fragile and at-risk. What if I didn't have Covid and could still get it? There is no answer. No one will ever know. Decision to get the vaccine is too difficult at this stage, one more agent in my body may overflow the cup. Who and where, what medical facilities are even seeing complex cases like mine. I want to be studied in order to learn and help others, and maybe help myself. With no Lyme hospitals, yet, any ideas where to take my case?

Sandra

02/27/2021 (3:17 pm)

YES, I was wondering the same thing! And I am not a negative, whiney complainer.. but I thought, Wow- people with complications for Covid, that sounds just like Chronic Lyme, are getting such support, research, concern etc.. while Chronic Lyme has pretty much been pushed aside as a made-up, mental condition that insurance won't cover and CDC won't accept! UGH! Pretty interesting, though..

elizabeth davich

04/15/2021 (9:28 pm)

I think many of the long haulers are the 90% of undiagnosed Lyme infections that have been dormant or misdiagnosed. I got covid twice and I'm back to square one with the Lyme.

Ely

04/24/2021 (7:04 pm)

Sad to hear!

Nancy Dawson

12/14/2020 (7:03 pm)

I am so glad to see this article from Dr Cameron. I know I'm in the minority of at least those who speak up about vaccines. I have always been a proponent of vaccination. I have been dealing with Lyme Disease since 1986. Treating for over 25 years on allopathic medicine with orals and IVs. I'm sure that medication saved my life. I did not take the Lyme vaccine when that came out preferring to wait and see. I didn't like what I saw. With the MRNA Covid vaccine I don't feel it is a choice. I have gotten emails telling me to avoid it but with millions infected and already 300,000 dead in this country I'm not waiting. If there are side effects I hope my taking it will help fix it. We all need to "risk it" with this horrible infection. Sure Lyme kills but COVID-19 kills faster!
---