Lyme disease vaccine for humans: Would you trust it?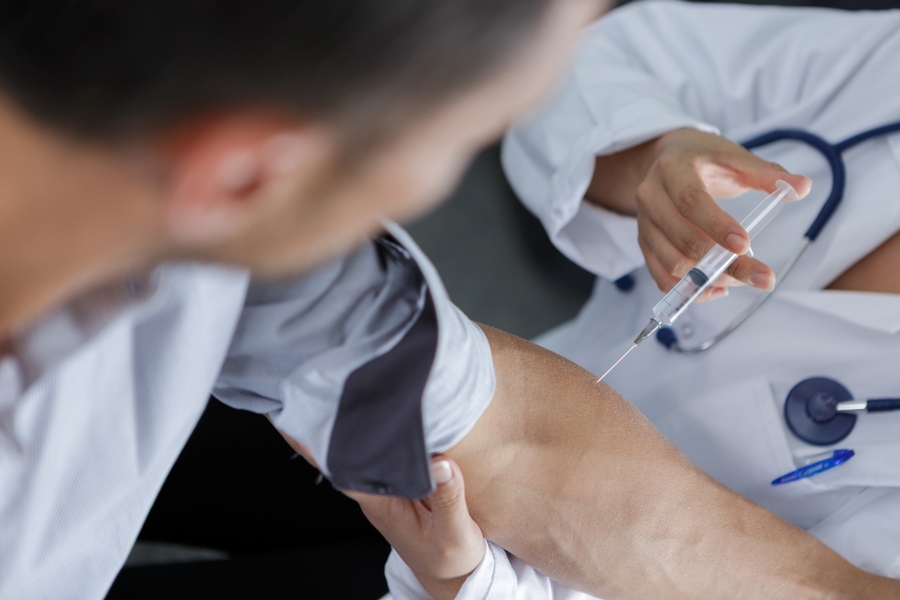 It has been 18 years since GlaxoSmithKlein pulled its preventative Lyme disease vaccine for humans, known as LYMErix, from the market. Now, a new vaccine is currently in Stage 2 clinical trials. This vaccine is also derived, in part, from the same OspA bacterial protein found in LYMErix. This begs the question: Will a new Lyme disease vaccine succeed or suffer the same fate as LYMErix?

LYMErix was reportedly effective at preventing a Lyme disease rash. But the Lyme disease vaccine for humans was only 50% effective at preventing other manifestations of Lyme disease, according to the LYMErix package insert. LYMErix was voluntarily removed from the market due to low demand.
In a survey of 1,015 adults in the U.S., author Matt Motta¹ addresses the question "how likely they are to request to be vaccinated when a Lyme vaccine becomes available for public use?"
The survey findings showed, "Individuals who live in the Northeast, where Lyme is most prevalent, are more likely to intend to vaccinate, while people who place less trust in scientific authorities like the CDC are less likely to do so."
Survey results, however, don't guarantee the new Lyme disease vaccine for humans will be embraced by the public, wrote Mott.
He described several reasons why LYMErix, a Lyme disease vaccine for humans was removed from the market:
"Low demand for LYMErix may have arisen from several factors, including its cost and the fact that it must be administered in two or three doses to reach high levels of effectiveness."
"Misinformation about the vaccine's safety – including the scientifically disputed claim that it can have adverse autoimmune effects – have also been linked to the vaccine being discontinued."
Editor's note:
I was concerned that the vaccine might not prevent chronic manifestations of Lyme disease. I am not sure the question of autoimmune events after the Lyme vaccination were ever resolved.
References:
Motta M. Could concern about climate change increase demand for a Lyme disease vaccine in the U.S.? Vaccine. 2020.
---
8 Replies to "Lyme disease vaccine for humans: Would you trust it?"
Robin M O'Rourke

09/22/2021 (10:11 am)

No ! I do not trust lyme vaccine. I got the lymerix and now I have chronic lyme. How can you make a vaccine when there are so many strains ? This would not protect against coinfections either giving people a false sense of protection. It would also allow doctors to dismiss sick people.

Robin M O'Rourke

09/22/2021 (7:56 pm)

I forgot to mention. How do you make a vaccine when you do not have proper tests to detect lyme.

09/23/2021 (1:18 pm)

It is always easier to find a test and a vaccine for a virus than a bacteria.

01/20/2021 (2:01 pm)

Yes, it's terrible what people who have Lyme disease go through with no proper testing.
Why would I want a vaccine if I already have it?
CDC has to get on board all the way.

Lynn Cash

12/15/2020 (5:14 am)

I was vaccine participant in 1995 LD from SmithKline Beecham. I almost died, the study docs denied my symptoms after 3 shots, lab changed ownership & became GlaGlaxoSmithKline etc… Its all for $ not facts! I still suffer daily, lost my marriage, my home & continue to suffer! DON'T GET LD VACCINE!

lou

09/21/2020 (11:43 am)

Some people were required to get the previous vaccine because they had outdoor occupations. They had no choice.

Also, there was documented, published damage from that vaccine. In fact, current makers of lyme vaccines have said they removed those elements that caused an autoimmune condition. That is the opposite of the claims that anti-vaxxers and false claims were to blame.

Bev

09/19/2020 (3:31 pm)

I would love to see a vaccine for those who are already suffering immensely from this horrible disease. People are not going to take a vaccine to prevent something that most people don't understand. The only people who understand this disease are those who have been suffering for many years. I'm 62 and have had it for 32 years. I had 6 attachments. All filled on my pillow. I remember it well. But dismissed it because Lyme disease was not even being talked about. This is a neurological mess. My life is pretty much over.
---