What are Lyme disease co-infections?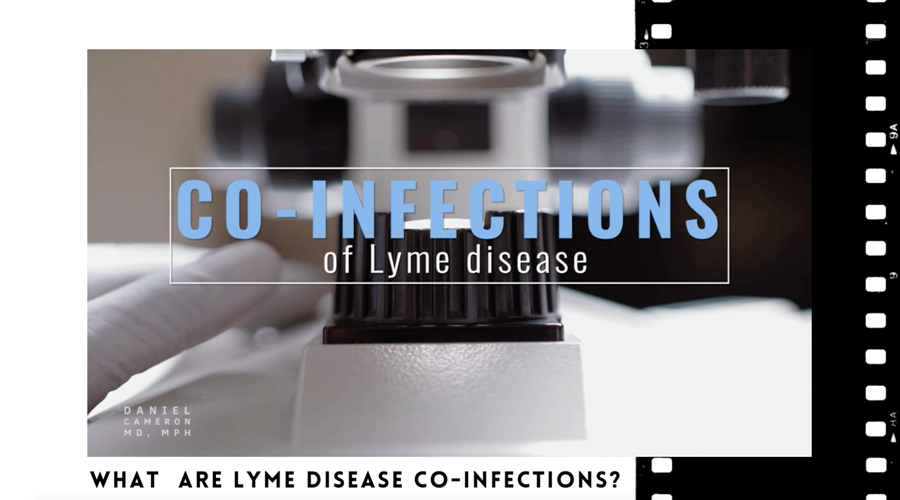 When Lyme disease was first discovered in 1975, it was the only known tick-borne illness recognized by clinicians. The disease, which is caused by an infection with the bacterium Borrelia burgdorferi, is transmitted through the bite of a black-legged (I. scapularis) tick.
Today, ticks harbor multiple infectious pathogens that can be transmitted to humans through a tick bite or tainted blood transfusion. The Centers for Disease Control and Prevention (CDC) now reports that "a single tick can transmit multiple pathogens, including bacteria, viruses, and parasites." [1] This can result in patients developing what is referred to as Lyme disease "co-infections."
In fact, between 2004 and 2016, the CDC identified 7 new tick-borne microbes capable of infecting humans. [1]
While most Lyme disease co-infections are acquired through the bite of an infected tick, several can be transmitted through contaminated blood transfusions. One investigation concluded, "Aside from a Babesia infection, Anaplasma is the most frequent transfusion-transmitted [tick-borne agent] with rapidly increasing clinical cases." [2]
Ticks harbor multiple pathogens
According to a study in Suffolk County, Long Island, more than half (67%) of the ticks collected were harboring at least one pathogen. The causative agent of Lyme disease, Borrelia burgdorferi was the most prevalent (57% in adults; 27% in nymphs), followed by Babesia microti (14% in adults; 15% in nymphs).
Another study indicates that "co-infection occurs in up to 28% of black-legged ticks" in Lyme endemic areas of the United States.
Furthermore, researchers found that among infected ticks collected, 45% were co-infected and carried up to 5 different pathogens. The most prevalent co-infections included Bartonella henselae (17.6%) and Rickettsia of the spotted fever group (16.8%).
Lyme disease with co-infections
Researchers from Columbia University, Tufts Medical Center, and Yale School of Medicine examined the extent of co-infections in patients diagnosed with Lyme disease. Their findings are alarming.
40% of Lyme disease patients had concurrent Babesia
1 in 3 patients with Babesia had concurrent Anaplasmosis
Two-thirds of patients with Babesiosis experienced concurrent Lyme disease and one-third experienced concurrent Anaplasmosis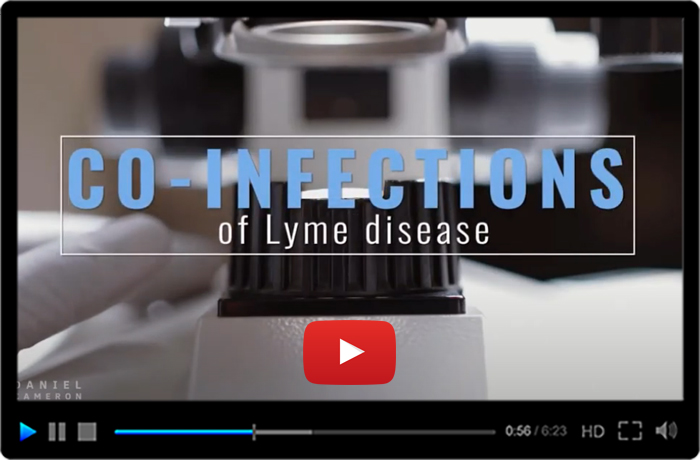 Recognizing and treating co-infections
As tick populations explode and expand into new geographic regions and cases of Lyme disease continue to soar, there is growing and warranted concern surrounding the medical communities' ability to recognize, diagnose, and treat Lyme disease co-infections.
Sanchez-Vicente points out that nearly 1 in 4 black-legged ticks tested in their study had multiple infections. This finding "justifies the modification of the clinical approach to tick-borne diseases to cover all infection possibilities."
Unfortunately, testing for co-infections rarely occurs. One study found that out of nearly 3 million specimens, only 17% were tested for non-Lyme tick-borne diseases.
Yet, an accurate diagnosis is critical, given that patients may require different treatment depending upon the type of co-infection. For instance, antibiotics prescribed for Lyme disease may be ineffective in treating parasitic or viral tick-borne diseases such as Babesia.
Most common co-infections
Lyme disease is the most common tick-borne illness in the United States. But it's no longer the only threat. Lyme disease co-infections are becoming the norm, not the exception. The most frequently diagnosed tick-borne co-infections include Babesia, Anaplasmosis, Ehrlichia, Bartonella, Southern Tick-Associated Rash Illness (STARI), and Borrelia miyamotoi.
Babesia is a parasite that infects red blood cells. This parasitic infection is usually transmitted by a tick bite but can be acquired through a contaminated blood transfusion. There have also been reports of congenital transmission of Babesiosis, although rare.
Saetre describes two cases of infants with congenital babesiosis born to mothers with prepartum Lyme disease and subclinical Babesia microti infection. [3] Additionally, congenital transmission has been described in 7 previous cases, in which the infants presented with fever, anemia, and thrombocytopenia. [3]
Most cases of Babesia involve the strains: Babesia microti and Babesia duncani.
Symptoms typically include irregular fevers, chills, sweats, lethargy, headaches, nausea, body aches, fatigue, and in some cases, shortness of breath. But manifestations can vary.
A case series published in the Nurse Practitioner Journal demonstrates the difficulty in diagnosing the disease, as it can cause a wide range of clinical presentations.
Babesia and Lyme disease
Babesia is often present with Lyme disease and can increase the severity of Lyme disease. One study found patients co-infected with Lyme disease and Babesia experienced fatigue, headache, sweats, chills, anorexia, emotional lability, nausea, conjunctivitis, and splenomegaly more frequently than those with Lyme disease alone.
Babesia can also increase the duration of illness with Lyme disease. One study found that 50% of co-infected patients were symptomatic for 3 months or longer, compared to only 4% of patients who had Lyme disease alone.
Testing and treatment
Babesia can also be difficult to diagnose with current testing. The parasite was detected microscopically in as few as one-third of patients with Babesia. Specific amplifiable DNA and IgM antibody were more likely to be positive.
The reliability of tests for Babesia in actual practice remains to be determined.
Babesia is treated with a combination of anti-malaria medications and antibiotics such as Atovaquone with azithromycin.
Ehrlichia is a tick-borne bacteria that infects white blood cells, but it has been found in spleen, lymph node, and kidney tissue samples. An infection with Ehrlichia can lead to Ehrlichiosis.
The infection is caused by Ehrlichia chaffeensis and Ehrlichia chagrins. The bacteria is transmitted by the Lone Star tick (Amblyomma americanum) and the black-legged tick (Ixodes scapularis).
Ehrlichia is typically transmitted by a tick bite. Only rarely, has the infection been associated with blood transfusion or organ transplant cases. According to the CDC, there have been two confirmed instances of infection occurring after kidney transplants from a common donor.
Symptoms and Treatment
Symptoms may include fatigue, fevers, headaches, and muscle aches. It can be treated with antibiotics doxycycline, minocycline, and Rifampin.
If left untreated, the disease can become severe and require hospitalization.
Anaplasmosis was previously known as Human Granulocytic Ehrlichiosis or HGE. The disease can be difficult to distinguish from Ehrlichiosis, Lyme disease, and other tick-borne illnesses.
This emerging infectious disease remains under-recognized in many areas of the United States. [4] It is caused by the bacteria Anaplasma phagocytophilum.
Anaplasmosis is spread by tick bites from the black-legged tick and western black-legged tick. Although it is reportedly rare, anaplasmosis has been transmitted through contaminated blood transfusions.
In fact, Mohan and Leiby contend that aside from a Babesia infection, "Anaplasma is the most frequent transfusion-transmitted [tick-borne agent] with rapidly increasing clinical cases." [2]
In general, most infections with anaplasmosis are mild, "however, up to 36% of patients require hospitalization, with 3% of those having life-threatening complications." [5]
Symptoms may include headaches, fevers, chills, malaise, and muscle aches. There have been a few reported cases describing pulmonary complications, as well. In fact, one study recommends that "anaplasmosis be included in the differential diagnosis for atypical respiratory presentations." [5]
And although uncommon, there have been patients with anaplasmosis who did not exhibit any symptoms (asymptomatic). "It is, therefore, crucial for clinicians to be aware of potential asymptomatic anaplasmosis following a tick bite," writes Yoo and colleagues. [6]
Anaplasmosis can be treated with antibiotics such as doxycycline, minocycline, and Rifampin.
Various Bartonella species have been found in black-legged ticks in northern New Jersey and in western black-legged ticks in California.
Bartonella can be contracted through a cat scratch or bite, causing "cat scratch fever." But it can also be transmitted by a tick bite. In fact, "ticks and small rodents are known hosts of Bartonella and play a significant role in the preservation and circulation of Bartonella in nature." [7]
Psychiatric presentations and other symptoms
Some patients exhibit a streak-mark rash that resembles stretch marks. Symptoms may include fever, headaches, fatigue, and swollen glands.
Several studies indicate an association between Bartonella and psychiatric symptoms. Investigators describe case studies of patients with new-onset psychiatric symptoms such as sudden agitation, panic attacks, and treatment-resistant depression possibly due to Bartonella.
Another case study highlights a young boy with a Bartonella infection who developed neuropsychiatric symptoms and was later diagnosed with pediatric acute-onset neuropsychiatric syndrome (PANS), a type of basal ganglia encephalitis. [8]
Bartonella can be treated with antibiotics such as doxycycline, minocycline, azithromycin, trimethoprim-sulfamethoxazole, clarithromycin, and Rifampin.
SOUTHERN TICK ASSOCIATED RASH ILLNESS (STARI)
STARI is an emerging tick-borne illness related to Lyme disease and was identified in the southeastern and south-central United States.
STARI is believed to be transmitted by the Lone Star tick; however, it is not officially confirmed as of yet.
The hallmark sign of STARI is an EM-like rash similar to that seen in Lyme disease. Symptoms may include fevers, headaches, stiff neck, joint pain, and fatigue.
The long term consequences and treatment of the illness have not been established.
It is not known whether antibiotic treatment is necessary or beneficial. Nevertheless, because STARI resembles early Lyme disease, physicians will often treat patients with oral antibiotics.
"B. miyamotoi is increasingly being recognized as the agent of a nonspecific febrile illness often misdiagnosed as acute Lyme disease without rash, or as ehrlichiosis." [9]
Borrelia miyamotoi (BMD) is a spiral-shaped bacteria that causes tick-borne relapsing fevers. However, investigators point out, Borrelia miyamotoi "should not be assumed to be biologically similar to the true relapsing fever spirochetes maintained by argasid ("soft") ticks, nor to cause typical relapsing fever." [9]
It appears to be a common infection in areas endemic for Lyme disease. [9]
Symptoms and prevalence
A 2011 study found the disease to generally present with more systemic signs and symptoms, particularly headache and fever, compared to Lyme disease. [10]
"Virtually all patients presented with fever … fatigue, and headache …. The next most common signs and symptoms were myalgia, chills, nausea and arthralgia, characterizing 30%–60% of the patients." [10]
Other investigators report that "patients infected with B. miyamotoi in the United States typically do not have a rash." But they may present with "a fever in conjunction with headache (96%), myalgia (84%), arthralgia (76%), and malaise/fatigue (82%)."
The prevalence of the disease is unknown but investigators report that  "studies in New England suggest that Borrelia miyamotoi infection may be as common as anaplasmosis and babesiosis."
They also point out:
"Human cases are likely to be found wherever Lyme disease is endemic."
"B. miyamotoi may cause serious complications, including meningoencephalitis in immunocompromised hosts."
"Several studies suggest that B. miyamotoi may be transmitted through blood transfusion, consistent with the high levels of spirochetemia that occur with Borrelia species that cause relapsing fever."
Borrelia miyamotoi is particularly concerning given that the bacterium can be transmitted to a person within the first 24 hours of tick attachment. And "the probability of transmission increases with every day an infected tick is allowed to remain attached."
Diagnostic testing is limited. Although the CDC recommends using PCR and antibody-based tests to confirm a diagnose of B. miyamotoi, a recent study finds blood smears have poor sensitivity for confirming the disease. [9] And there is no FDA approved diagnostic test for the disease.
Treatment thus far is similar to that of Lyme disease. Studies show that doxycycline and amoxicillin have effectively treated B. miyamotoi infection in patients.
Remember, tick-borne co-infections are the norm, not the exception.
Editor's Note: Practitioners should consider co-infections in the diagnosis when a patient's symptoms are severe, persistent, and resistant to antibiotic therapy. Physicians have found that co-infections typically exacerbate Lyme disease symptoms.
References:
CDC Vital Signs, Weekly / May 4, 2018 / 67(17);496–501. https://www.cdc.gov/mmwr/volumes/67/wr/mm6717e1.htm
Mohan KVK, Leiby DA. Emerging tick-borne diseases and blood safety: summary of a public workshop. Transfusion. 2020 Jul;60(7):1624-1632. doi: 10.1111/trf.15752. Epub 2020 Mar 24. PMID: 32208532.
Kirsten Saetre, Neetu Godhwani, Mazen Maria, Darshan Patel, Guiqing Wang, Karl I Li, Gary P Wormser, Sheila M Nolan, Congenital Babesiosis After Maternal Infection With Borrelia burgdorferi and Babesia microti, Journal of the Pediatric Infectious Diseases Society, Volume 7, Issue 1, March 2018, Pages e1–e5, https://doi.org/10.1093/jpids/pix074
Rocco JM, Mallarino-Haeger C, McCurry D, Shah N. Severe anaplasmosis represents a treatable cause of secondary hemophagocytic lymphohistiocytosis: Two cases and review of literature. Ticks Tick Borne Dis. 2020 Sep;11(5):101468. doi: 10.1016/j.ttbdis.2020.101468. Epub 2020 May 23. PMID: 32723647.
Jose E Rivera, Katelyn Young, Tae Sung Kwon, Paula A McKenzie, Michelle A Grant, Darrell A McBride, Anaplasmosis Presenting With Respiratory Symptoms and Pneumonitis, Open Forum Infectious Diseases, Volume 7, Issue 8, August 2020, ofaa265, https://doi.org/10.1093/ofid/ofaa265
Yoo J, Chung JH, Kim CM, Yun NR, Kim DM. Asymptomatic-anaplasmosis confirmation using genetic and serological tests and possible coinfection with spotted fever group Rickettsia: a case report. BMC Infect Dis. 2020;20(1):458. Published 2020 Jun 30. doi:10.1186/s12879-020-05170-9
Hao L, Yuan D, Guo L, et al. Molecular detection of Bartonella in ixodid ticks collected from yaks and plateau pikas (Ochotona curzoniae) in Shiqu County, China. BMC Vet Res. 2020;16(1):235. Published 2020 Jul 9. doi:10.1186/s12917-020-02452-x
Breitschwerdt EB, Greenberg R, Maggi RG, Mozayeni BR, Lewis A, Bradley JM. Bartonella henselae Bloodstream Infection in a Boy With Pediatric Acute-Onset Neuropsychiatric Syndrome. J Cent Nerv Syst Dis. 2019;11:1179573519832014. Published 2019 Mar 18. doi:10.1177/1179573519832014
Telford SR, Goethert HK, Molloy PJ, Berardi V. Blood Smears Have Poor Sensitivity for Confirming Borrelia miyamotoi Disease. J Clin Microbiol. 2019 Feb 27;57(3):e01468-18. doi: 10.1128/JCM.01468-18. PMID: 30626663; PMCID: PMC6425185.
Telford SR, Goethert HK, Molloy PJ, Berardi V. Blood Smears Have Poor Sensitivity for Confirming Borrelia miyamotoi Disease. J Clin Microbiol. 2019 Feb 27;57(3):e01468-18. doi: 10.1128/JCM.01468-18. PMID: 30626663; PMCID: PMC6425185.
---
2 Replies to "What are Lyme disease co-infections?"
Michelle

12/31/2022 (1:35 pm)

What are the tests for lymes disease co- infections? How does one find a doctor that specializes in lymes disease? I'm in Arizona, and was diagnosed 20 years ago.

Shari Damaso

01/02/2021 (10:54 am)

Thank you! My daughter just tested positive for Babesia Duncani and Bartonella Bacilliformis. I am thankful to find your blog! There is one Lyme specialist in our state and I understand he sometimes has a 6-month waiting list. So the info you share is very helpful to us!
---